Panic Exit Devices BS EN 1125
Views:32 Author: D&D Hardware Publish Time: 2015-12-04 Origin:Site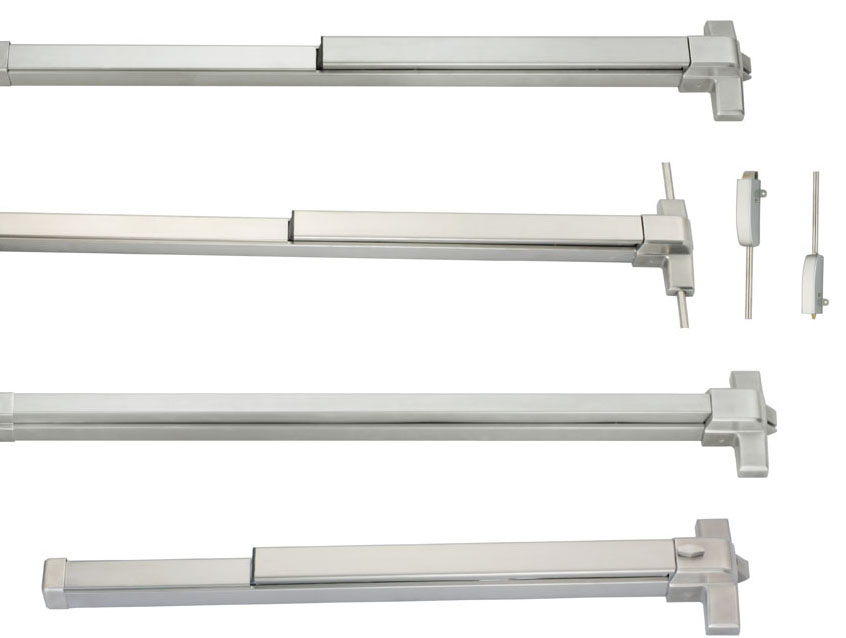 BS EN 1125 Panic Exit Devices
It is desirable that the doors at final exits in public buildings,places of entertainment ,shops etc should be fitted with panic devices operated by a horizontal bar or touch bar .The emphasis for products covered by this standard is on safe exit rather than security .

providing details on product types,classification by use ,test cycles ,door mass ,corrosion resistance as well as definitions,product performance requirements,test apparatus,test methods and marking products.


The main purpose of the performance requirements of this standard is to give safe and effective escape through a doorway with minimumeffort and without prior knowledge of the device i .e.for lock doors on escape routes where panic situations can be for seen .

BS EN 1125 Classifies panic exit devices by using a 9 digit coding system ,each digit referring to a particular feature of the product Measured against the standards performance requirement .

Digit 1-Category of use
Only one category is identified .
-grade 3-High frequency of use by public and others with little incentive to exercise care .

Digit 2-Durability
Two categories are defined .
-grade 6

:

100

,

000 cycles
-grade 7

:

200

,

000cycles

Digit 3-Test door mass
Two categories are defined .
-grade5

:

Up to 100kg
-grade6

:

Up to 200kg
Digit 4 –fire resistance
Two grades of fire resistance are identified :
-grade 0

:

Not appropriated for use on fire/smoke door assemblies
-grade 1

:

suitable for use on fire/smoke door assemblies subject to satisfactory assessment of the contribution of thePanic/emergency device to the fire resistance of specified fire/smoke door assemblies.
Digit 5-Safety
All panic and emergency devices have a critical safety fun thereforeOnly the top grade 1 is identified .


Digit 6 –Corrosion resistance
Two grade of corrosion resistance are identified according to EN 1670.
-grade 3

:

High resistance
-grade 4

:

very high resistance

Only one category of security is identified grade 2:
Panic devices are primarily for the operation of a door from the inside. Safety consideration will always be given over security.
Digit 8 - Projection of device
Two categories are identified.
-grade 1: projection up to 150mm(standard projection)
-grade 2:projection up to 100mm(low projection)
Two categories are identified.
-typee A : push bar operations
-typee B : touch bar operations
D&D Hardware Manufacture of high quality hardware for Wooden Doors, Metal Doors, Fire Rated Doors,
Our products which include Mortise Locks, Lock Cylinder, Lever Handles, Door Hinges, Panic Exit Device, Door Closer,Door Stopers, Door Bolts, etc.

All our products strictly according to international Standard, such as the ANSI, BS EN/CE, UL, BHMA standard.
Contact us Now:
Contact: David Jian
Mob:0086-139 2903 7292
Email: David@dndhardware.com, sales@dndhardware.com,

Jobby Zhang
Mob:
0086-137 2599 9617
Ema
il:
jobby@dndhardware.com
D&D HARDWARE INDUSTRIAL CO.,LTD
ADD:No.4 Bldg,Street 33,West Gaoxin Rd,High-tech Zone, Jianghai Dist. Jiangmen City,Guangdong,China (Postcode:529000)

Http://www.dndhardware.com
Tel:+86-750-3652251, 3856396
Fax: +86-750-3856395, 3856397