Lock & Latches for Fire and Escape doors
Views:0 Author:D&D Hardware Publish Time: 2021-05-20 Origin:D&D Hardware

Introduction
In order to provide an effective barrier to prevent fire, a door has to remain closed within the frame.
In the case of single action doors, this role might be undertaken by a latch.
In certain cases there is a need for a lock to be fitted to a fire-resisting door. This might be on a duct door which is normally kept locked with only occasional access to service equipment, or other fire-resisting doors which for security reasons are locked for periods of time.
In fitting locks or latches to fire-resisting doors, the potential fire performance of a door might be reduced due to:
• removal of a section of the door leaf, door frame or seal,
• leaving voids within the structure of a timber door,
• adding materials which could cause heat transfer problems in a timber door,
• through fixings creating thermal bridges in a timber door,
• using materials of low melting point (less than 800ºC, or 900ºC for steel doors over 90 minutes resistance) in components which, if they should melt, could cause a failure of functionality of the device,
• locks containing materials which might flame.
For the purpose of the Code of Practice locks and latches are divided into the following categories:
• Roller catches
• Rim latches
• Mortise latches
• Mortise locks, rim locks and deadlocks
• Bored-in knobsets
Note: This list does not imply suitability of any device for fire door use
Critical Recommendations
6.2.1
If placed on the market after 1 July 2013, the lock or latch:
• must be CE marked to BS EN 12209,
• and preferably, should be provided with additional product certification by an approved third party certification body.
6.2.2
The lock or latch must have demonstrated its suitability for the intended purpose by inclusion in satisfactory fire tests to BS EN 1634-1 or BS EN 1634-2, on a type of door and configuration in which it is proposed to be used. This evidence should be provided by an approved third party certification or testing body

6.2.3
Locks and latches with low melting point (less than 800°C, or 900ºC for steel doors over 90 minutes resistance) components, which are critical to the retention of the door in the closed position, should NOT be used unless proven by specific tests.
6.2.4
According to Approved Document B Vol.2 2006, locked doors on escape routes should be openable by one hand operation.

6.2.5
A regular programme of maintenance must be undertaken to ensure that the correct operational performance is maintained for the life of the building.
6.2.6
To reduce the removal of timber from doors, the locks and latches should be as small as is practicable.
Information taken from Code of Practice: Hardware for Fire and Escape Doors.
D&D mortise locks are comply strictly with BS EN 12209 standard, CE marked, Fire tests to BS EN 1634-1, 260 minutes fire rated, 200,000 cycles tested, suitability for use on fire/smoke doors (Grade 1 certified), available in multiple functions and backset/CTC distance.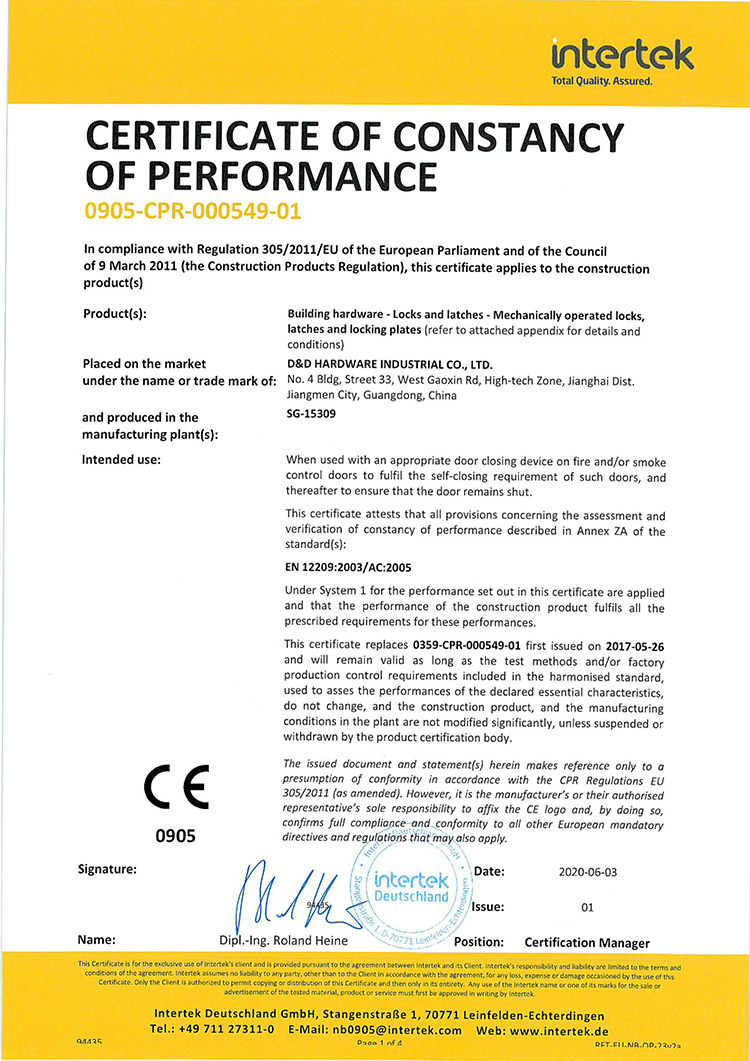 For more information, please contact D&D, we are able to help you choose suitable door hardware for all your need.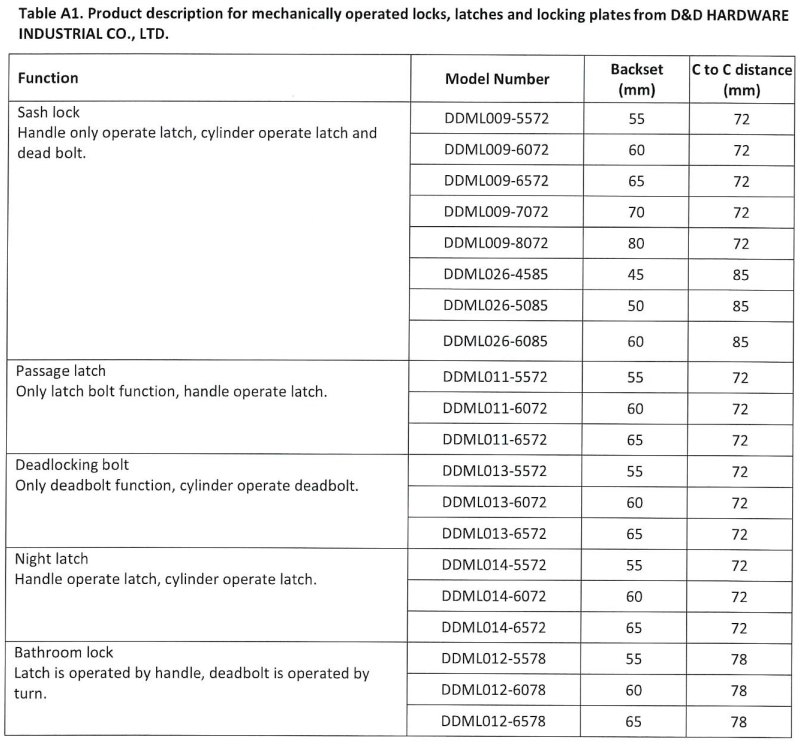 For further information about door locks or any of our services, click here.
Contact us Now:
Contact: David Jian
Mob: 0086-139 2903 7292
Email: David@dndhardware.com, sales@dndhardware.com
Jobby Zhang
Mob: 0086-137 2599 9617
Email: jobby@dndhardware.com