Fire rated door refers to the door that can meet the requirements of fire stability, integrity and thermal insulation in a certain period of time, together with the frame. Fire door is one of the measures for building fire prevention separation. They are usually used on fire walls, stairwell entrances or pipe wells, requiring smoke and fire isolation.
Fire doors not only have the function of ordinary doors, but also have the function of preventing the spread of fire and smoke. They can prevent the spread of fire in a certain time and ensure the evacuation of people.
There are only 2 international standards all over the world--EN and US. We can study the criteria of door from the following two aspects:
The Fire rated door standards in the United States

The Fire proof door standards in Europe
1. Fire rated door standards in the United States
Fire rated doors are tested in accordance with the following standards:
UL 10B, Fire Tests of Door Assemblies (neutral or negative pressure)
UL 10C, Positive Fire Pressure Tests of Door Assemblies
NFPA 252, Standard Methods of Fire Tests of Door Assemblies
The basic requirements for fire rated door assemblies include:
Fire ratings (20/45/60/90/180 minutes) are granted by third-party testing agencies and are labeled on the products.
Fire rated door assemblies must meet the requirements of the applicable building or life safety code, such as the National Fire Protection Association (NFPA) 80: Standard for Fire Doors and Other Opening Protectives, NFPA 101: Life Safety Code, the International Building Code (IBC) and the International Fire Code (IFC).
Fire doors are required to be self-closing and positive latching.
The fire rating of the wall dictates the fire rating of the door.
Standards and Testing.
Fire Door Inspection:
During everyday use, a fire door seems just like any other door. But when a fire occurs, these doors Prevent Fire from spreading from the area of origin to other Protected areas within the building.

NFPA 80 recommends regular inspection and maintenance plans implemented and managed by the property management department.
NFPA 101 also requires that specific doors to be inspected and tested at least once a year, firewalls, barriers and partitions should be maintained in accordance with NFPA 80.
NFPA 80 requires the following content to be verified:
(1) No open holes or breaks exist in surfaces of either the door or frame.
(2) Glazing, vision light frames, and glazing beads are intact and securely fastened in place, if so equipped.
(3) The door, frame, hinges, hardware, and non-combustible threshold are secured, aligned, and in working order with no visible signs of damage.
(4) No parts are missing or broken.
(5) Door clearances at the door edge to the frame, on the pull side of the door, do not exceed clearances list in 4.8.4 and 6.3.1.
(6) The self-closing device is operational, that is, the active door completely closes when operated from the full open position.
(7)If a coordinator is installed, the inactive leaf closes before active leaf.
(8) Latching Hardware operators and secures the door when it is in the closed position.
(9) Auxiliary hardware items that interfere or prohibit operations are not installed on the door or frame.
(10) No field modifications to the door assembly have been performed that void the label.
(11)Casketing and edge seals, where required, are inspected to verify their presence and integrity
2. Fire proof door standards in Europe
Compared with other European countries, the British fire code is very complete and comprehensive. To understand the European door hardware, it is very helpful to refer to the British Fire Code.
Now Britain has the same fire door test standard as Europe EN1634.
Fire protection regulations in Britain require hardware matching: in addition to the hardware on the fire door must pass the fire detection EN1634 together with the fire door. Fire door hardware must also meet the form of CE/EN testing requirements and be certified by third-party certification, such as CERTIFIRE or INTERTEK.
Certified Fire proof door Hardware:
Door hinge-BS EN1935
Door closer-BS EN1154
Door coordinator-BS EN1158
Mortise lock-BS EN12209
Panic exit device-BS EN1125
Emergency exit device-BS EN179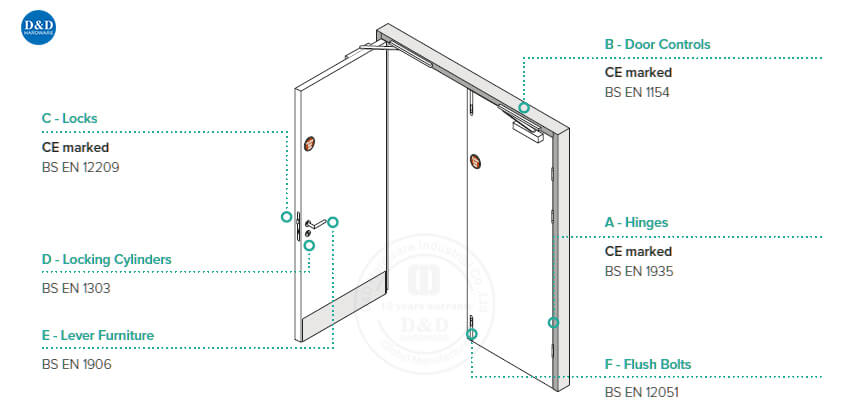 These are the two international standards for fire rated doors, which are authoritative. Correct fire door hardware can save lives. Selecting certified products from a reputable and reliable source, ensuring proper installation and undertaking regular inspection and maintenance routines will save lives.
The products that D&D offer are tested to the most stringent international industry standards, including BS EN, CE, UL, ANSI and BHMA, include fire rated door hinges, ANSI fire door hinges, Door handles, Mortise locks, Door closers, Panic exit devices and Door Accessories etc., suitable for Healthcare, Education, Hotel, Government, Apartment Building, Residential and Commercial applications.
For further information about Fire rated door solution or any of our services, click here.
Contact us Now:

Contact: David Jian
Mob:0086-139 2903 7292
Email: David@dndhardware.com, sales@dndhardware.com,

Jobby Zhang
Mob:0086-137 2599 9617
Email: jobby@dndhardware.com