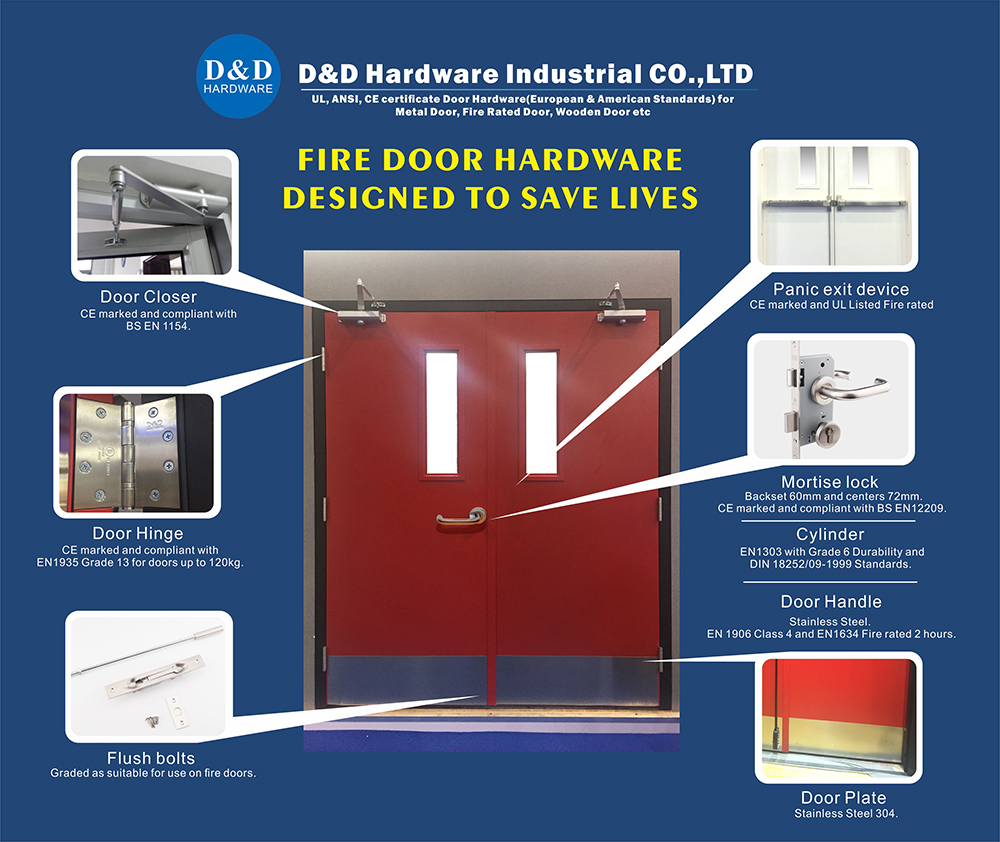 How to Choose Fire Hardware for Fire Rated Metal Door?
When it comes to the fire safety work in the buildings, it is an important role: Fire Rated Metal Door. Finding the right Fire rated door hardware for Fire Rated Doors is critical, as it can save lives.
Fire rated doors are usually placed on the evacuation paths such as staircases, front rooms and walkways. When choosing fire doors, attention should be paid to specifications, and the path should not be blocked when opening doors. The normally closed fire doors in public passages will affect the ventilation and lighting, and the passage is inconvenient. If the management is not good, it will lead to the failure of the door closer and the hoisting hardware, which is not conducive to the normal use of the fire doors. The maintenance and maintenance of the fire rated metal doors should be strengthened in the use process.
Fire doors in the installation and use of some details need to pay attention to, it's matching hardware fittings only the installation of fire doors in line with construction standards, in order to play a role.
1.How to identify fire prevention materials?
The thickness of door frame, door fan, door fan edge and door fan steel plate meets the requirements of the corresponding fire protection grade; at the same time, the hardware fittings should also meet the fire protection grade standard.
Following are some common fire-resistant hardware signs:
CE Marking
CE marking is a mandatory conformance mark on the market. With the CE marking on a product, the manufacturer ensures that the product is conformity with requirements of the applicable construction products directive. For hardware used on fire, smoke and escape doors.
BS EN 1634
Is the European Fire safety Standard for determining the fire resistance of door and shutter assemblies including hardware designed for installation within openings incorporated in vertical separating elements(door sets).
Locks can be assessed to be suitable on:
FD30 (30 minute) Fire Doors
FD60 (60 minute) Fire Doors
BS EN 1935
BS EN 1935 classifies door furniture by using an 8 digit coding system. A similar classification applies to all building hardware product standards so that complementary items of hardware can be specified to, for instance, a common level of corrosion resistance, category of use, etc. Each digit refers to a particular feature of the product measured against the standard's performance requirements.
BS EN 12209
Features assessed include normal use (and abuse) forces, long-term durability, fire/smoke resistance, corrosion and temperature resistance and security, both manipulative and physical.

2.Guide to fire door product compliance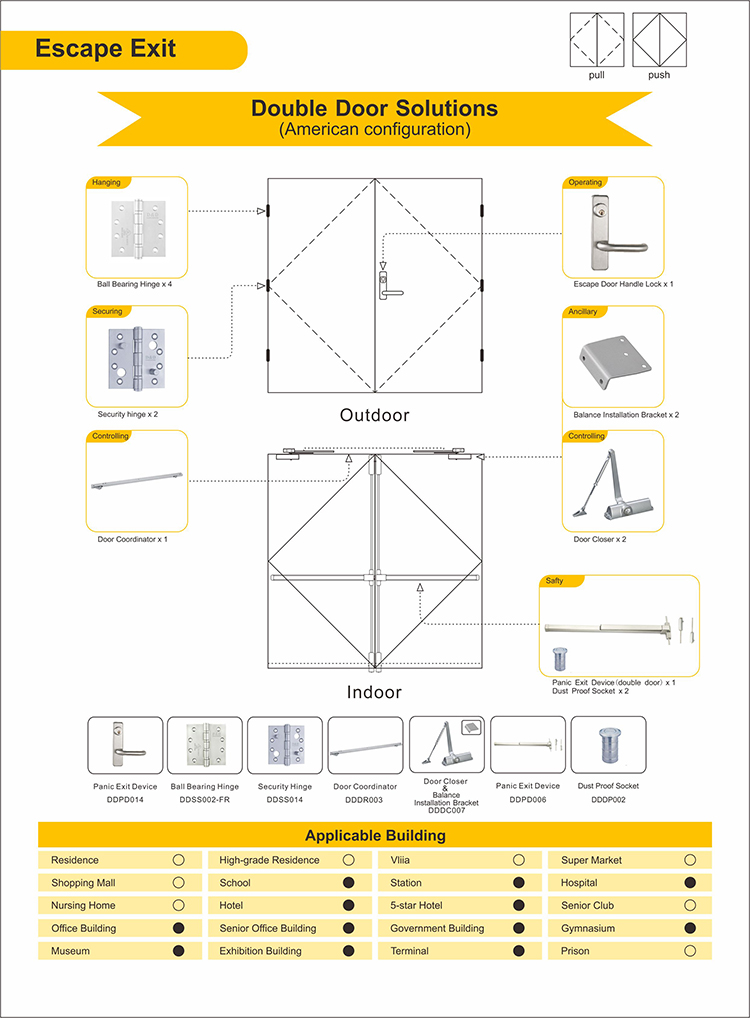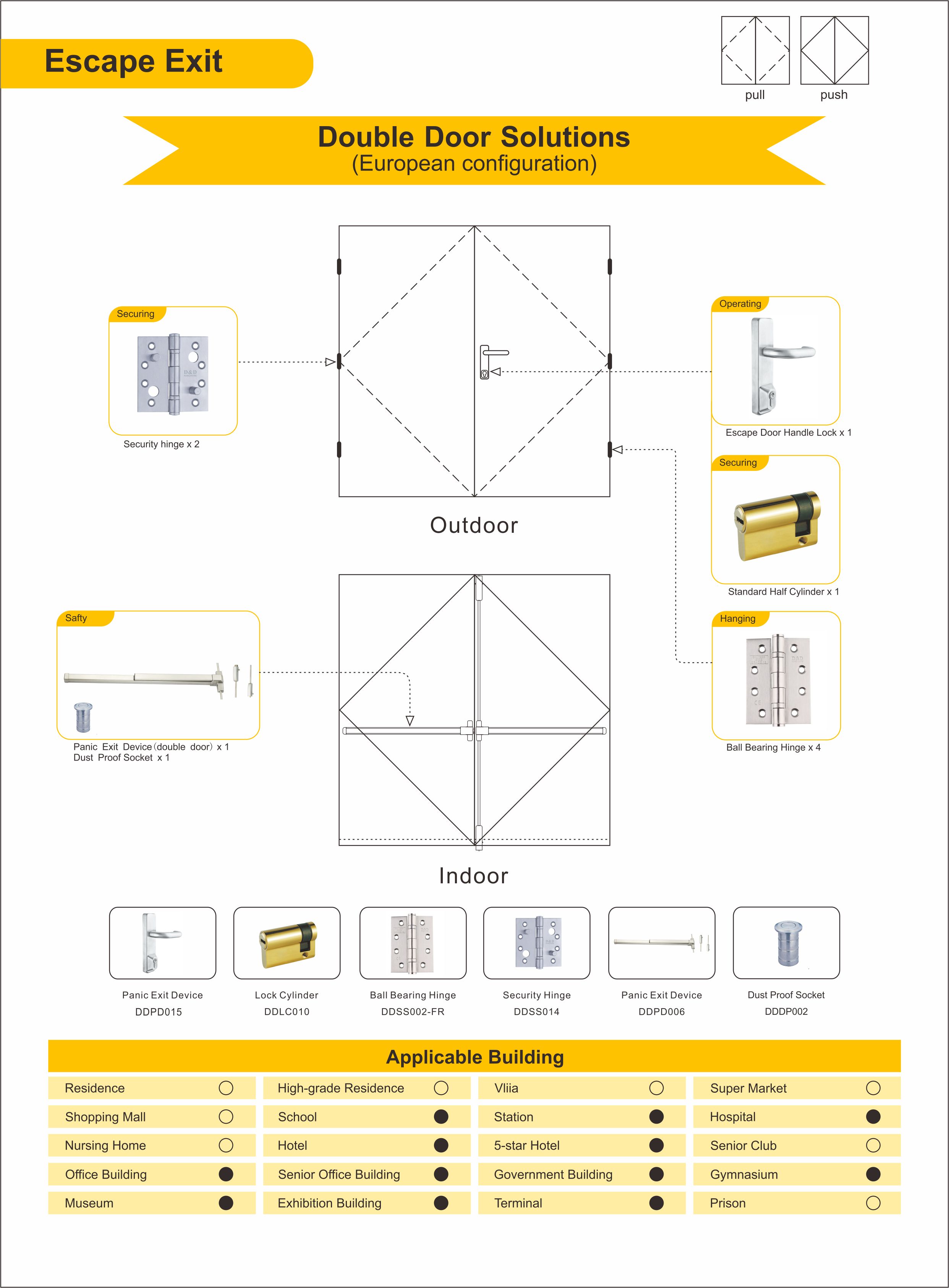 Stainless steel Fire Rated hinges to suit Fire Rated Metal Doors or Timber Doors.These hinges are CE marked and compliant with EN1935 Grade 13 for doors up to 120kg.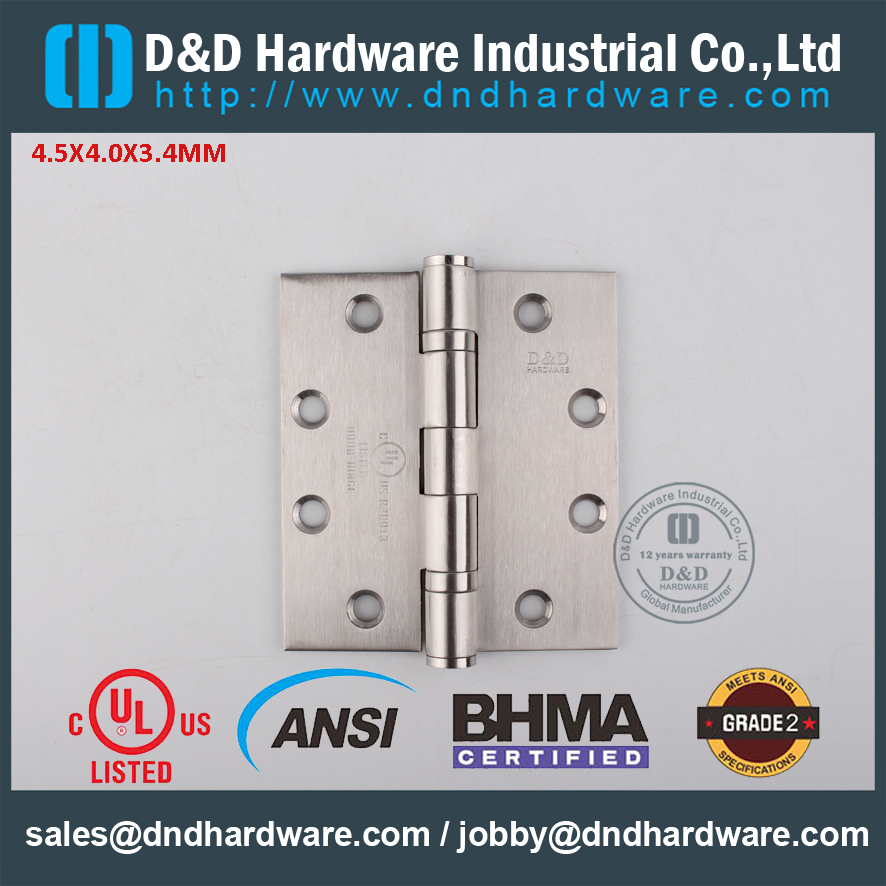 Mortise locks available with modular case dimensions. Backset 55/60mm and centers 72mm.Square or radiuses forfends. Stainless steel finish. They are CE marked and compliant with BS EN12209.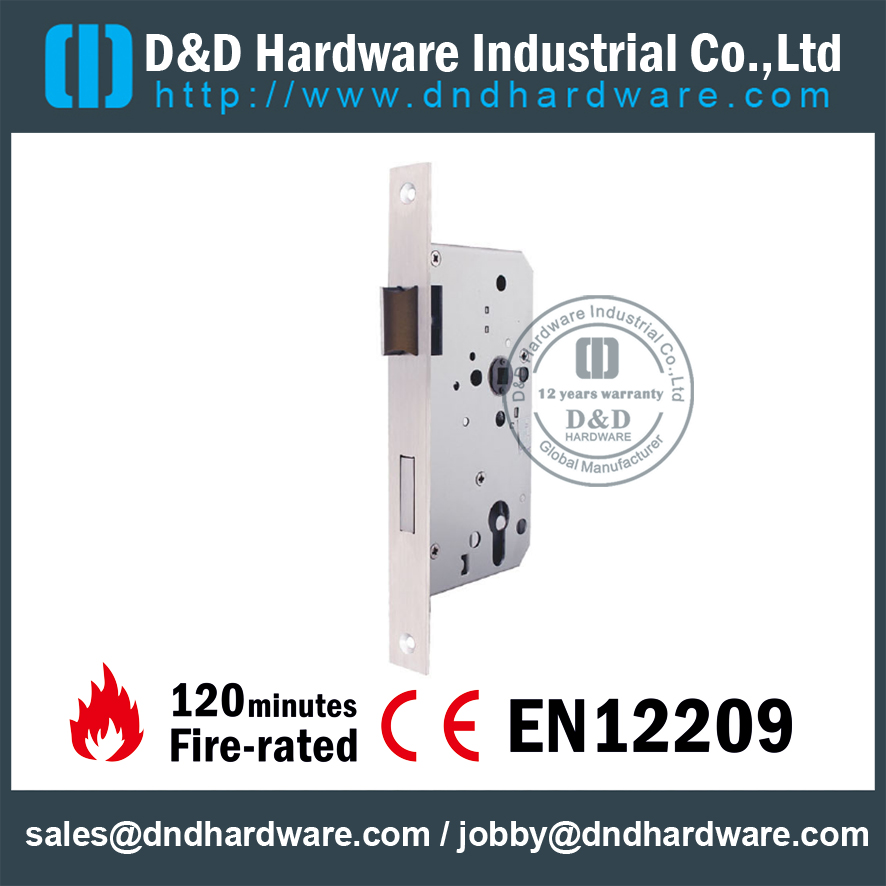 Cylinders for use with our mortise locks are available in single, double, or double with thumb turn variations. Nickel plate finish. These cylinders compliant with EN1303 with Grade 6 Durability and DIN 18252/09-1999 Standards.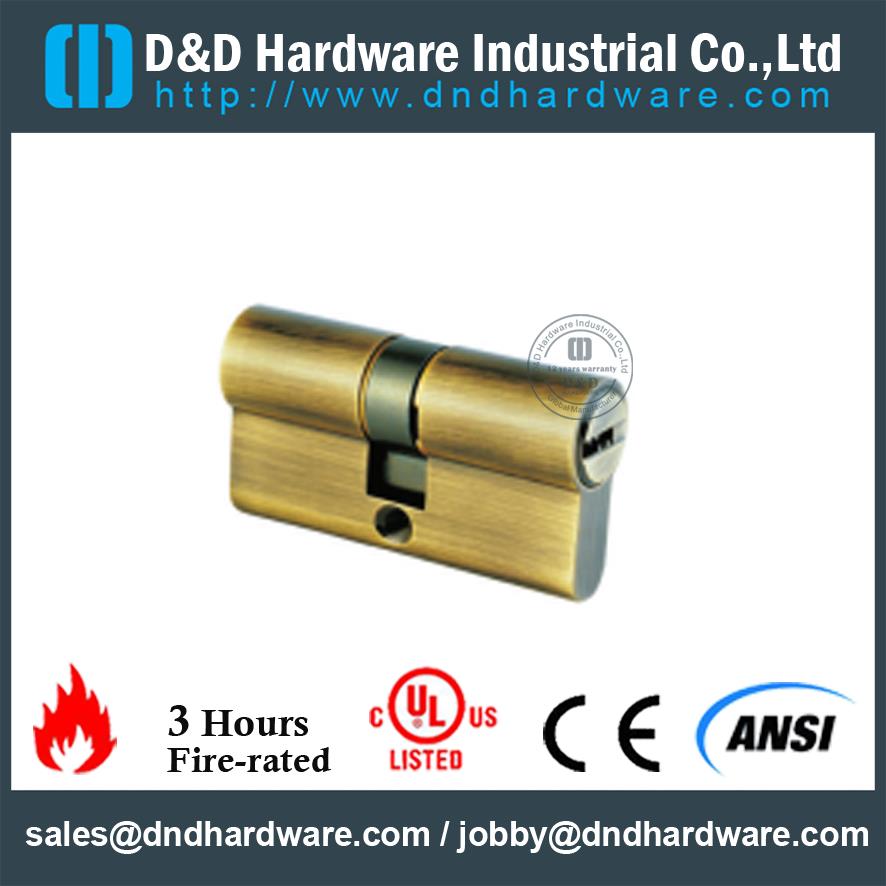 Level door handle available in stainless steel. The handles are compliant with EN 1906 Class 4 and EN1634 Fire rated 2 hours.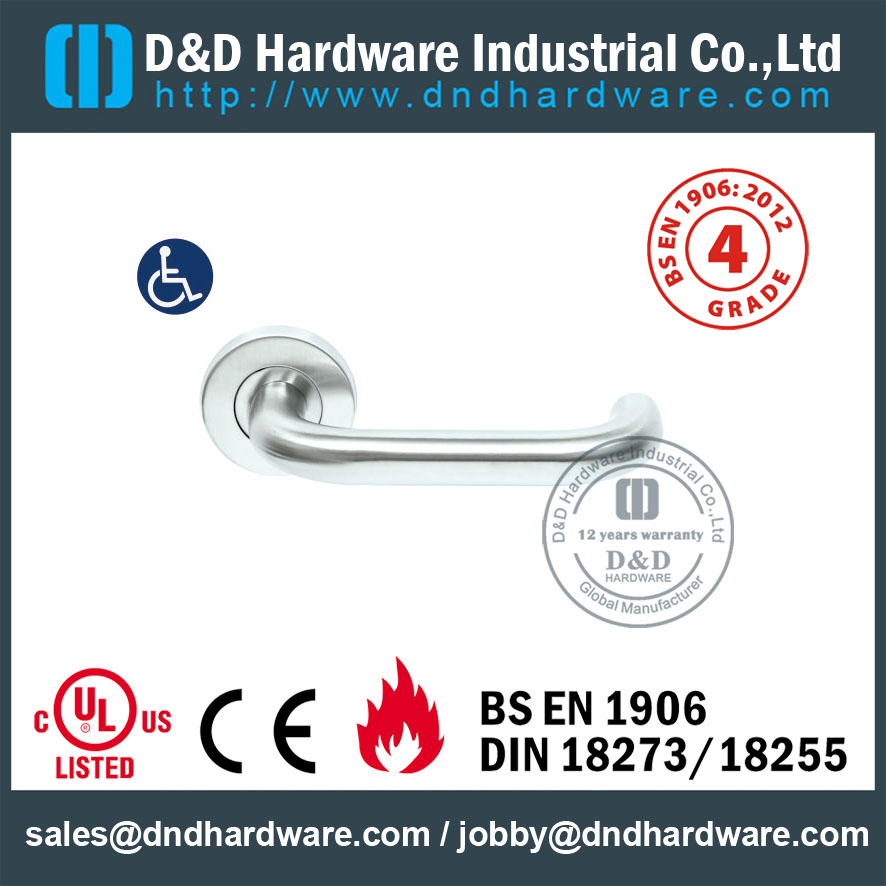 Door closers can be achieved in a variety of ways with overhead surface mounted, concealed or transom mounted closers are floor springs. These closers are CE marked and compliant with BS EN 1154.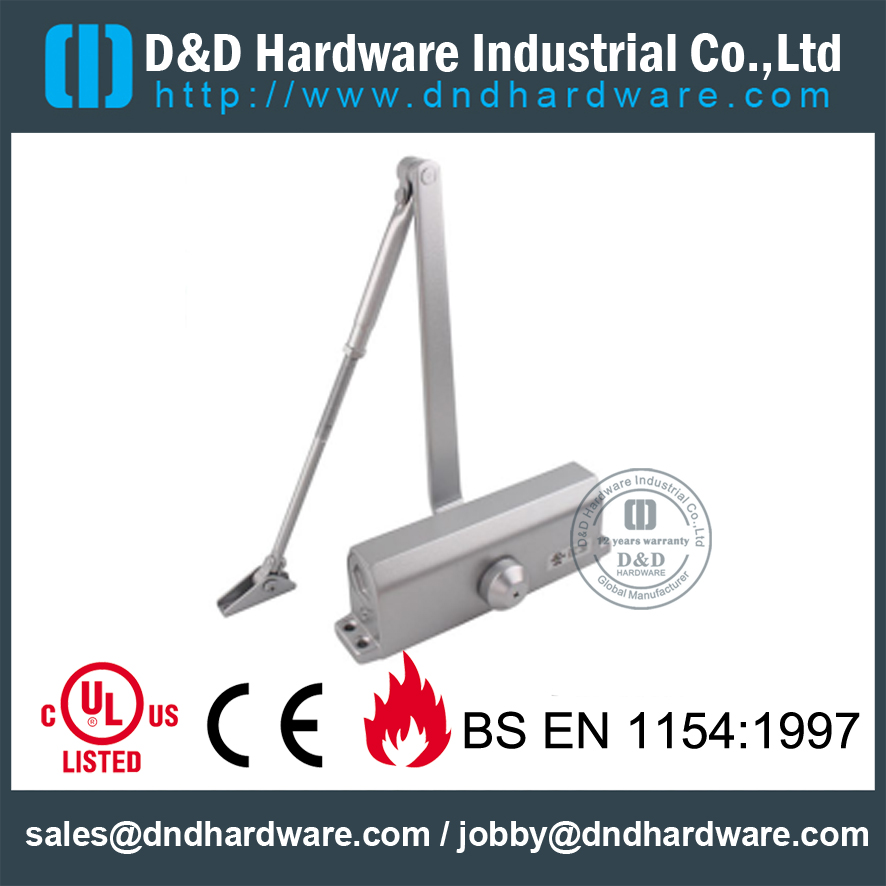 Panic exit devices are CE marked and compliant with EN1125 for panic exit applications.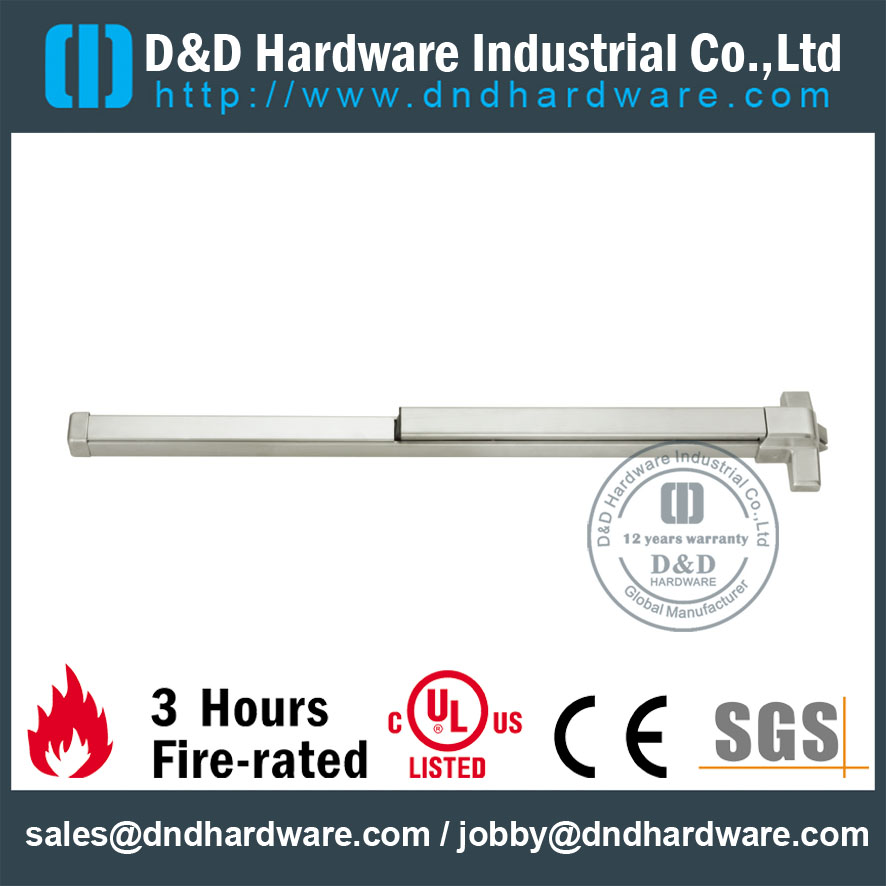 Flush bolts are available for use on double doors to keep the inactive door locked. They graded as suitable for use on fire doors.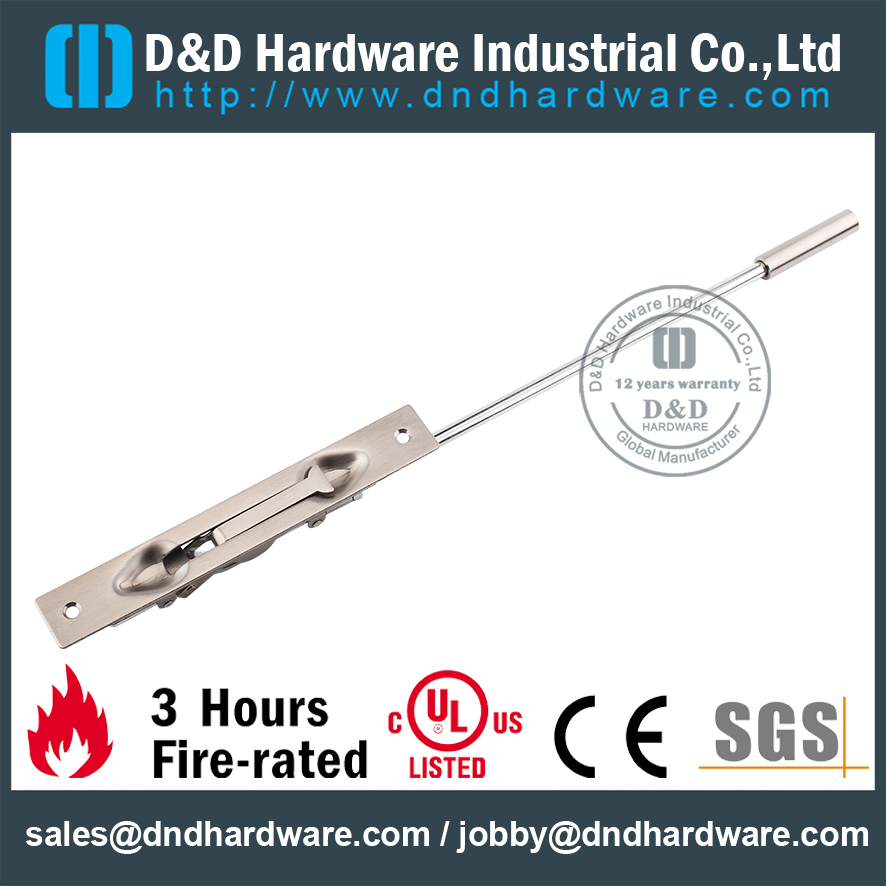 For professional advice on meeting their responsibilities under the Fire Safety Order, it's recommended that hospitals, offices, schools and public buildings should always use the Certificated Fire doors and their associated hardware.
Fire doors and their associated hardware critical that thorough inspections and maintenance routines are undertaken regularly to keep all fire doors in good working order. No door hardware products work independently, only the cooperation of various products can make the fire door work smoothly. In case of fire, a hardware accessory certified by the national fire protection type will fight for every second for life!
D&D hardware has more than 12 years of experience in manufacturing Fire Rated Door hardware for fire doors, include fire rated door hinges, ANSI fire door hinges, Door handles, Mortise locks, Door closers, Panic exit devices and Door Accessories etc.
Not only door hardware, but also door-opening solutions. Our experienced and qualified team can help you find the most suitable solution for your needs, committed to mutual benefit.

For further information about Fire safety or any of our services, click here.
Contact us Now:

Contact: David Jian
Mob:0086-139 2903 7292
Email: David@dndhardware.com, sales@dndhardware.com,

Jobby Zhang
Mob:0086-137 2599 9617
Email: jobby@dndhardware.com