How to fix blocked door locks?
Views:13 Author:Site Editor Publish Time: 2017-08-28 Origin:Site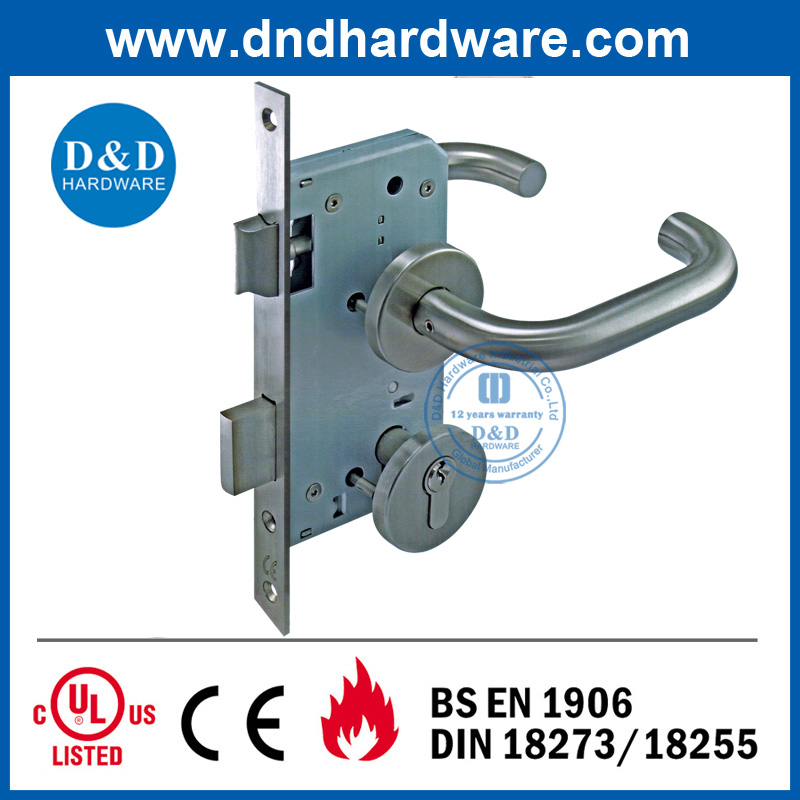 In general, as long as there are doors, locks are needed, and locks are an integral part of any place. A door lock can protect the personal belongings are not violated, so to ensure the integrity of the lock is important. However, as the years accumulate, dust accumulation, wear or rust will occur on the locks, so do you know how to fix the locked door lock?
1.Key broken in the lock
Key broken in the door lock and can't pull it out, it is a upset and hopeless thing to many people. At this time, you can't open your door, can't also pull key out, and what should you do?
A broken key extractor is one of the easiest ways how to fix a door lock. If you have no a suitable broken key extractor, you can use the blade or a pair of tweezers. Before using any of these tools to try to pick up the key components, make sure that the keyway is properly lubricated. This is usually to prevent any damage that friction may cause, while trying to clean the broken part of the key.
2.Misaligned Locks
When you are trying to figure out how to fix a door lock that is jammed, and find that it is due to the bolt and the door being misaligned, are you anxious? This is the common problem of deadlock and single latch, but they all have some relatively easy remedies. In order to solve the dislocation, you need to check the lock firstly and try to find out the dislocation may result.
To check if there is anything blocking the impact throat, which can lead to lock misalignment.
May caused by the door of old facts. If there is enough time to solve, a prompt settlement will save you a lot of trouble. Another common reason is the door Lock, this causes the door to sag and throw the lock and the crash plate out of alignment, causing the door lock to seize occasionally.
3.Rusty Locks
Locks is rust is a common occurrence, especially if they have been installed and used for a long time. External locks are more frequent than interior locks. You can use lubricants and powdered graphite to help reduce the impact of rust on the door locks. However, if your door locks are completely rusty, you should consider changing your door locks so that your safety will not be harmed.
4.Keyway blocked by dirt buildup
Many homeowners have never experienced the process of cleaning locks, so locks are very common because of the accumulation of dirt, so it is very common for door locks to jam due to a buildup of dirt. It is better to use lubricant to remove the keyway of the door lock. The lubricant helps clean the lock without causing any further damage. Make sure you don't use any household products (such as oils) to lubricate the locks, because it only complicates your problems rather than corrects them. You only need to spray the keyway with a lubricant and then spray the key. After that, insert the key into the keyway so that the lubricant can expand and begin to take effect.
This four cases are common, and sometimes, you might run into an emergency. I hope you have found the basic answer to how to fix a blocked door lock. Of course, maintaining locks without damage is still essential.
D&D Hardware Manufacture of high quality
Fire Rated Door hardware for Wooden Doors, Metal Doors, Fire Rated Doors
,Our products which include
Mortise Locks,Lock Cylinder,
Door Hinges, Panic Exit Device, Door Closer,
Lever Handles, Door Stopers, Door Bolts, etc.
All our products strictly according to international Standard, such as the ANSI, BS EN/CE, UL, BHMA standard.
Contact us Now:
Contact: David Jian
Mob:0086-139 2903 7292
Email: David@dndhardware.com, sales@dndhardware.com,

Jobby Zhang
Mob:0086-137 2599 9617
Email: jobby@dndhardware.com
D&D HARDWARE INDUSTRIAL CO.,LTD
ADD:No.4 Bldg,Street 33,West Gaoxin Rd,High-tech Zone, Jianghai Dist. Jiangmen City,Guangdong,China (Postcode:529000)

Http://www.dndhardware.com
Tel:+86-750-3652251, 3856396
Fax: +86-750-3856395, 3856397