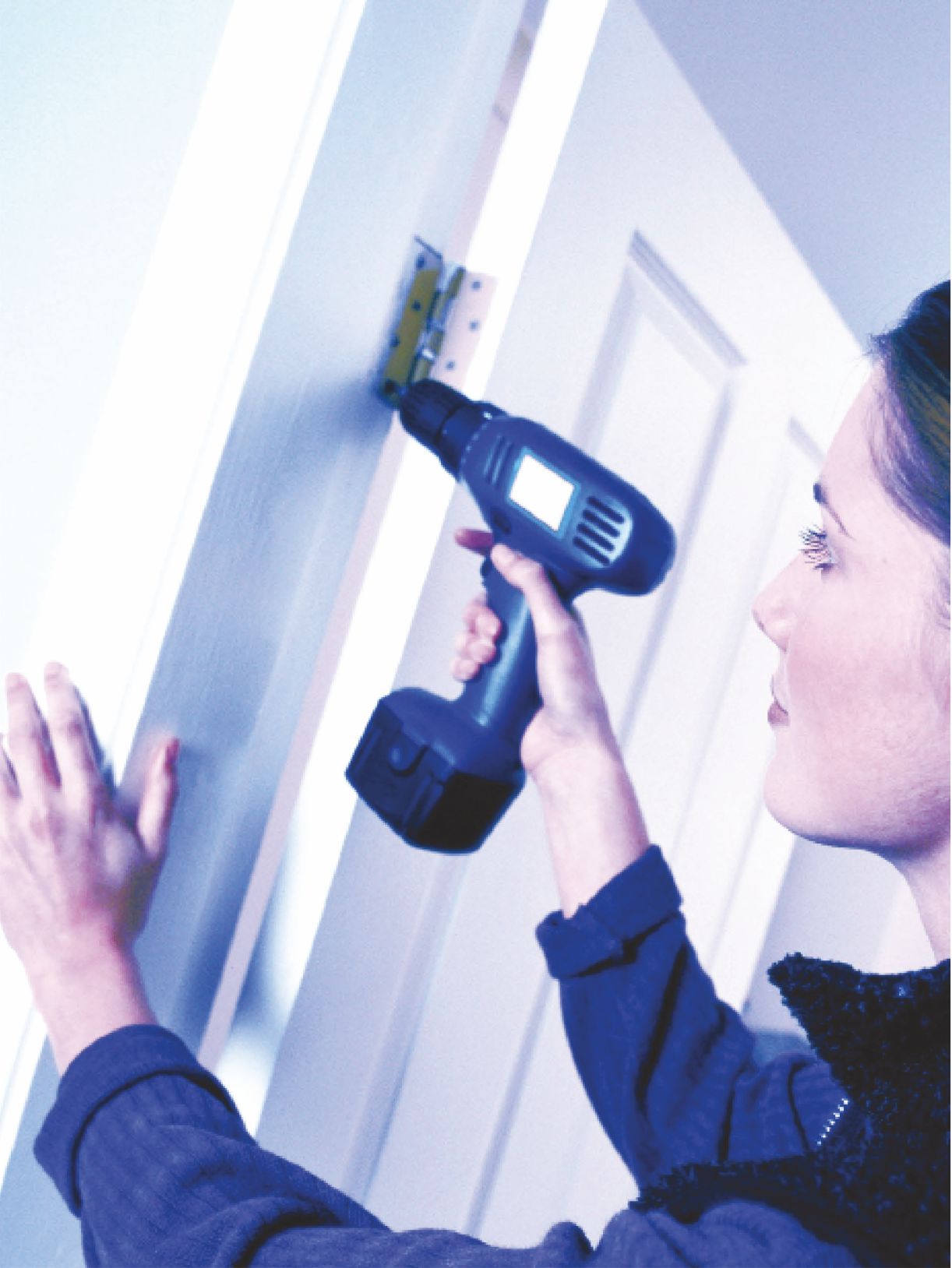 Door hinges, one of the hardware accessories, are used to connect or rotate the device so that the door can be freely opened and closed by hinges. There are many types of door hinges, such as fire rated door hinges, metal door hinges, European door hinges, etc. In general, the hinge is composed of a pair of metal leaves, the distance between hinge and door can be adjusted when installing .One of the characteristics of door hinge is that it can be used according to the space and the opening angle of the door, so that various doors have corresponding extension. Different doors need to pay attention to their size when using hinges.
I will explain how to select and install the door hinge from the following two aspects:
1. Door Hinge materials and sizes configuration.
2. How to install the hinge reasonably?
1. Door Hinge materials and size configuration.
The hinge specifications are distinguished according to its material. The commonly used materials for hinges are brass, iron, aluminum and stainless steel. The performance and durability are also different. Different finishes make the hinges more subdivided, such as satin hinges, Polish hinges, PVD hinges, Antique brass hinges, Antique Copper hinges, etc.
The hinge specifications are also differentiated according to size. The dimensions are in terms of length and width, calculated in inches. Common specifications are 3 inches * 2 inches, 4 inches * 3 inches, 5 inches * 3 inches, 6 inches * 3.5 inches and so on. The conventional thicknesses of door hinges are 3.0mm, 3.4mm, 4.6mm.
2. How to install the hinge reasonably?
If you want to install a door or to check if the existing hinges are suitable, you need to know the thickness and width of the door. This is a quick guide chart:
Thickness of Door Hinge Dimensions

The chart above is just a guide. It's not a set of stone templates.
Door hinge position:
Most doors use only three hinges, but higher doors sometimes use four. Here we list the basics. These are common American standards in architecture:
1. Top hinges are usually mounted 5 inches from the top border/edge of the door.
2. The bottom hinge is installed 10 inches from the bottom edge of the finished floor.
3. The third hinge is located in the center between the top and bottom hinges.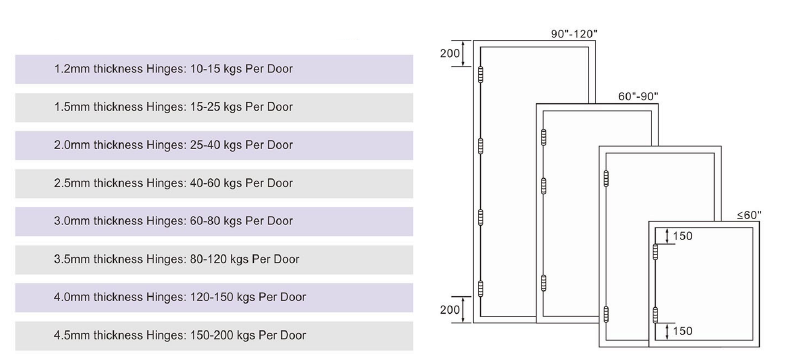 Multiple hinges per door:
As a general rule, you will use one hinge per every 30 inch of door.
Referring to door height:
1. Doors up to 60 inches need 2 hinges.
2. Doors over 60 inches, but not over 90 inches, need to use 3 hinges.
3. Doors over 90 inches but not over 120 inches, 4 hinges are recommended.
We can get a better using of the right hinge when we know the dimension of the door.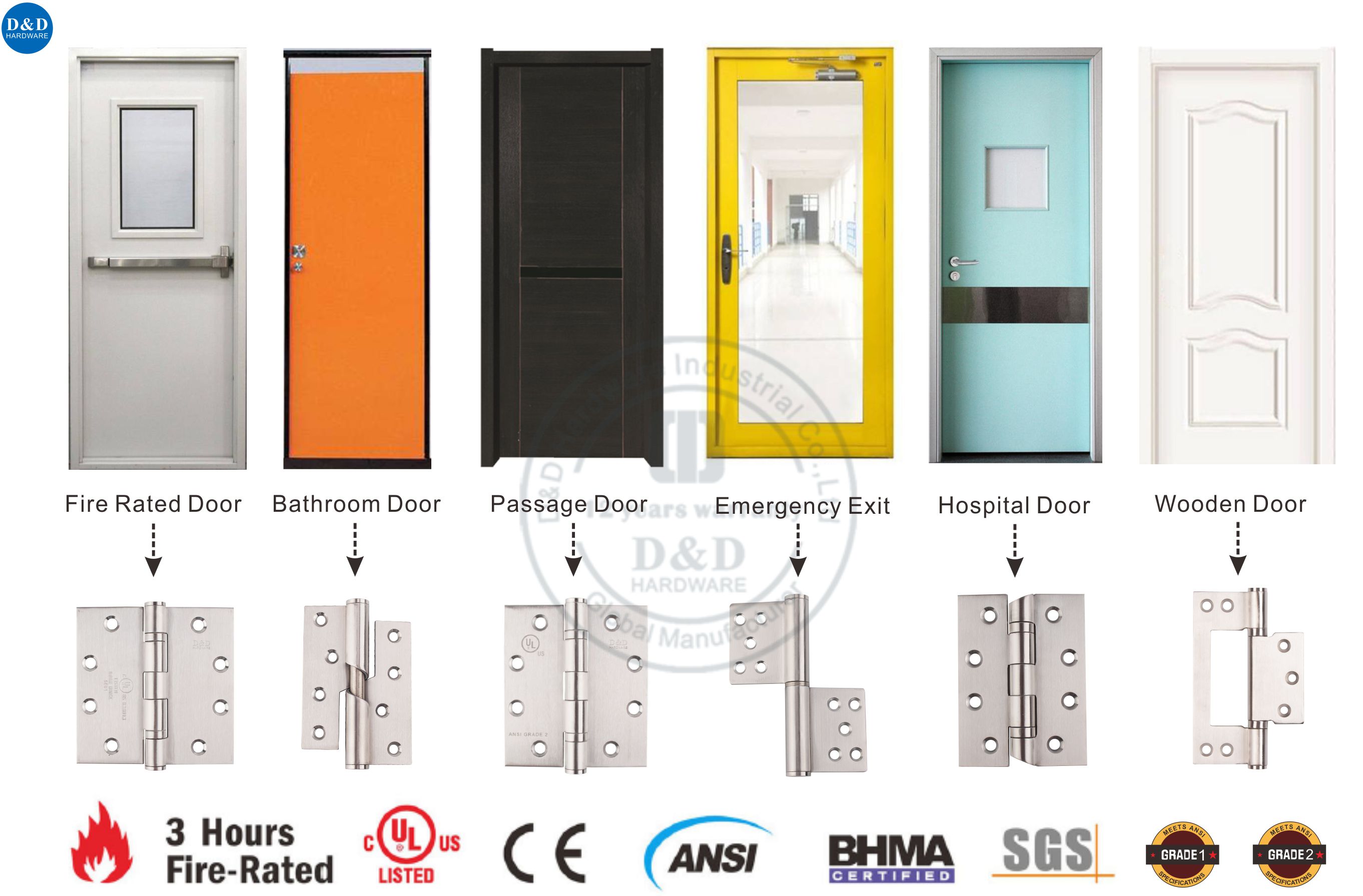 D&D stainless steel door hinges have many different finishes for your choose, which including Satin Stainless steel, Polish Stainless steel, PVD, Antique Brass, Antique Copper, etc.
Stainless steel hinges are more rust-resistant and corrosion- resistant, especial suit for installing at kitchen and bathroom, humid environment, which can maintain long-term beauty and long service life.
D&D Hardware offer certified Door ironmongery for doors, comply with the American standards and the European Standards, BS EN, CE, UL, ANSI and BHMA certification, Suitable for Education, Healthcare, Hotel, Government , Apartment building, Hospitality Commercial applications.
D&D hardware has more than 12 years of experience in manufacturing Metal Door hardware for metal doors, include fire rated door hinges, ANSI fire door hinges, Door handles, Mortise locks, Door closers, Panic exit devices and Door Accessories etc.

For further information about Metal door solution or any of our services, click here.
Contact us Now:

Contact: David Jian
Mob:0086-139 2903 7292
Email: David@dndhardware.com, sales@dndhardware.com,

Jobby Zhang
Mob:0086-137 2599 9617
Email: jobby@dndhardware.com