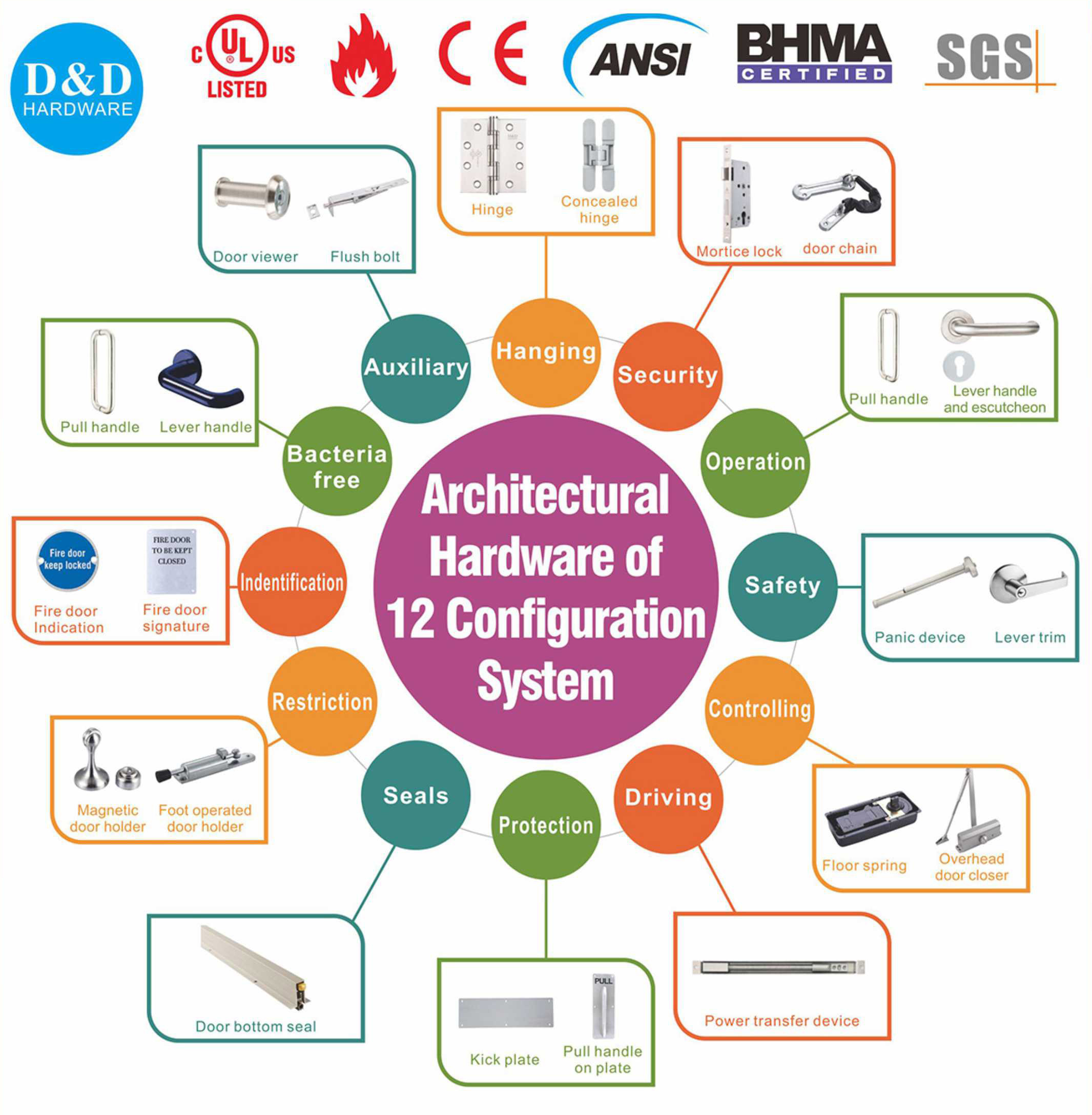 As we all know, fire rated hardware is the heart of a fire rated door. The normal open and close of the door is inseparable from the tacit cooperation of each fire rated hardware accessory. If a fire rated door is not used with a complete door system, it cannot pay a role as a door.
We will explain the standard configuration requirements for fire-proof door hardware from two aspects:
1. The importance of door system
2. Standard Requirements for Fire Hardware in Different Areas
1. The importance of fire rated door system
Fire rated door is interconnected by four factors: Door Hanging system, Door locking system, Door control system, and Door protection system.
Among them, the opening control system is a very important part. The door control system controls the flow of people throughout the building.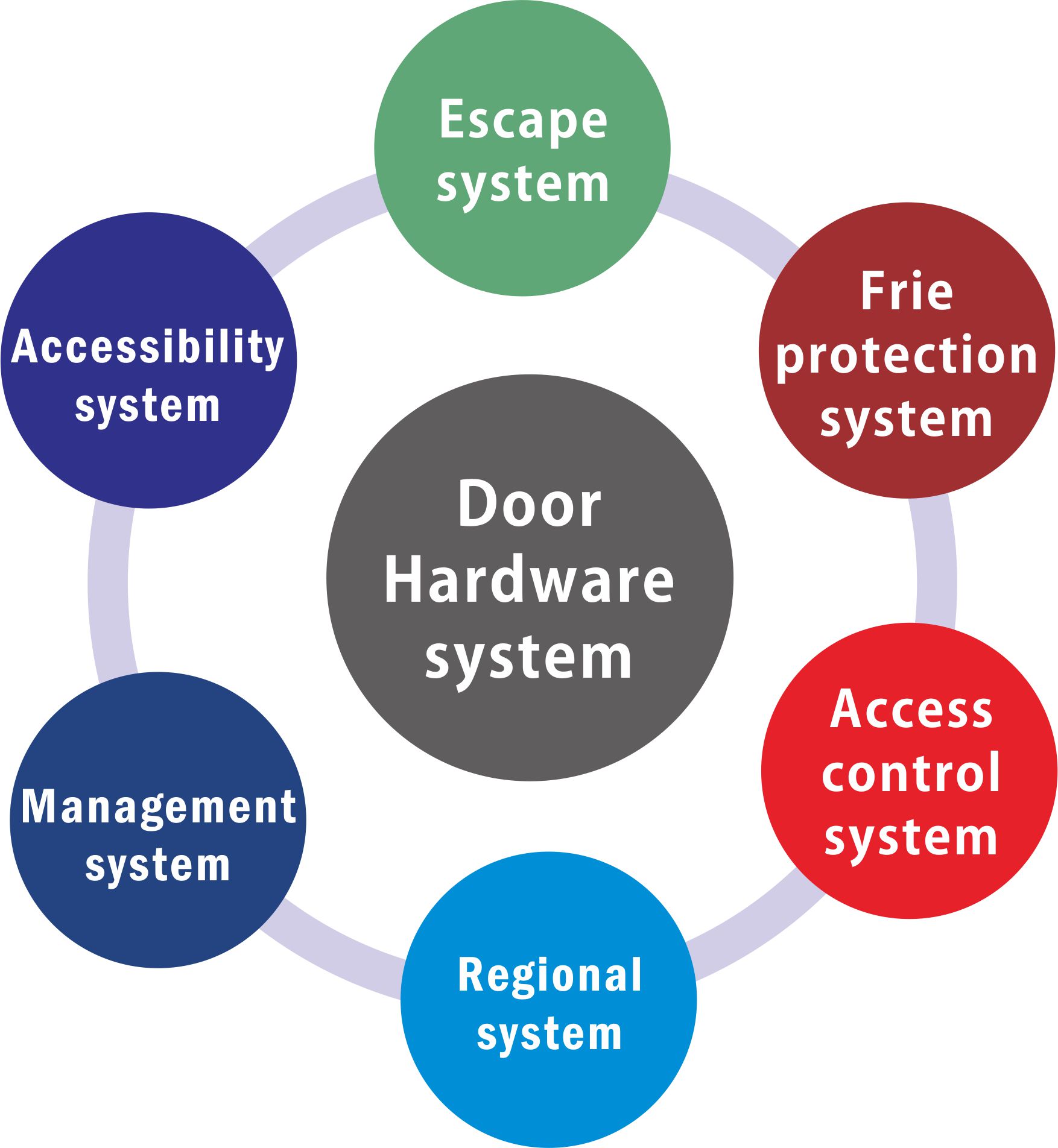 Door hardware need to be considered the following six factors:
Escape--The flow of people is large and dense, and most of them are super-high-rise buildings, which have higher requirements for fire escape. Rapid and safe escape from the building.

Fire prevention--When the fire occurs, the fire compartment inside the building can be prevented from spreading according to the design requirements; to gain time for escape.

Security--The business building has a large flow of people, frequent entry and exit of various types of personnel, have high requirements for security, and excludes unauthorized personnel!

Regional function--The commercial building has complex functions and strong professionalism, and the functions of each area are more complicated. Meet the functional requirements of each region.

Management - For the division of different regions, the corresponding gate management requirements are also more complicated. Convenience of the management party (property company).

Accessibility - High-end commercial centers need to take into account the considerations of special people, and require more barrier-free facilities, such as delay function requirements and automatic door design.



Fire rated doors should not only meet the requirements of the door system, but also meet the standards of different areas before being installed in buildings.
2. Standard Requirements for Fire Hardware in Different Areas
Fire rated door standards related to fire rated door hardware include EN 1634 in Europe and UL10C in America.
British Fire Code and European Fire Rated Door Standard EN1634
Compared with other European countries, the British Fire Code is very complete and comprehensive. The British standard of BS has been used in the UK, and the CE/EN standard has been improved. Adding BS before EN standard becomes the national standard of Britain. BS EN 1634:2004 has replaced BS 476:31. Since then, the United Kingdom and Europe have used the same fire door detection standard.
Except the hardware on the fire door must pass the fire rated test EN1634 together with the fire door. Fire-rated hardware in the UK must also comply with CE/EN formal testing requirements and be certified by third-party certification party, such as CERTIFIRE or INTERTEK, to allow such hardware to be installed on fire doors.
For example:
Door hinge-BS EN1935
Door close-BS EN1154
Mortise lock-BE EN12209
Panic exit device-BS EN1125
Emergency exit device-BS EN179
American NFPA80 and UL10C
UL10C is one of the three American fire door standards.
NFPA80 is the standard of installation and usage of fire doors in the United States. It is a very perfect set of standard for the usage, installation, maintenance and testing of fire exits. This set of specifications has comprehensive inspection and maintenance guidelines, and stipulates that Authorized Having Jurisdiction (AJH) should act as fire door and related hardware.
Each fire rated door must be inspected and licensed by a recognized professional unit (AJH) at least every year to ensure that every fire door is in good condition.
Other hardware requirements for fire doors are as follows:
Butts and Hinges with ANSI/BHMA A156.1
Mortise locks with ANSI/BHMA A 156.13
Door controls-Closer with ANSI/BHMA A 156.4
Exit Devices with ANSI/BHMA A 156.3
These standards are required on fire doors:
All hardware must pass the relevant fire certification.
Every door and hardware is labeled to indicate that the relevant fire detection has been passed.
If the label is damaged, it can only apply for a supplement to the licensing authority.

Fire rated door hardware standardization plays a very important role in effectively improving and solving door quality problems. The use of door standardized fire rated door hardware enables the door's comprehensive performance to be improved and controlled, minimizing problems in production, installation and after-sales. To ensure the quality of the entrance.
In order to safely and stably function as a fire rated door, the doors need to be used with the standardized door hardware. D&D Hardware offer certified Door hardware for different kind doors, comply with the American standards and the European Standards, BS EN, CE, UL, ANSI and BHMA certification, Suitable for Education, Healthcare, Hotel, Government , Apartment building, Hospitality Commercial applications.
D&D hardware has more than 12 years of experience in manufacturing Metal Door hardware for metal doors, include fire rated door hinges, ANSI fire door hinges, Door handles, Mortise locks, Door closers, Panic exit devices and Door Accessories etc.

For further information about Fire rated door solution or any of our services, click here.
Contact us Now:

Contact: David Jian
Mob:0086-139 2903 7292
Email: David@dndhardware.com, sales@dndhardware.com,

Jobby Zhang
Mob:0086-137 2599 9617
Email: jobby@dndhardware.com