BS EN 1935 CE Single Axis Door Hinges
Views:89 Author:D&D Hardware Publish Time: 2017-11-28 Origin:D&D Hardware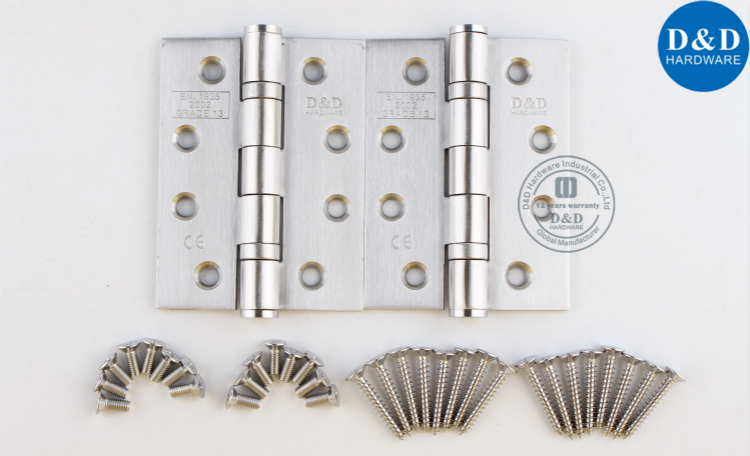 BS EN 1935 classifies door furniture door furniture by using an 8 digit coding system. A similar classification applies to all building hardware product standards so that complementry items of hardware can be specified to, for instance, a common level of corrosion resistace, category, category of use, etc. each digit refers to a particular feature of the product measured against the standard's performance requirements.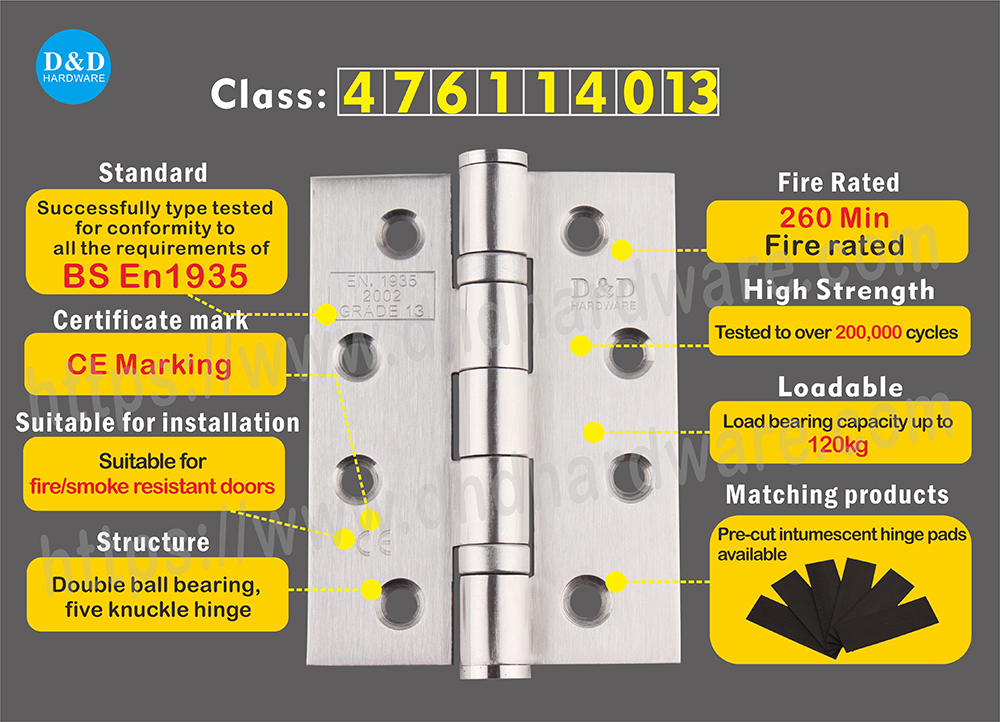 1. Category of Use
Four grades are identified:
Grade 1 : Light duty
Grade 2 : Medium Duty
Grade 3 : Heavy duty
Grade 4 : Severe Duty
2.Durability

Three grades of durability are identified:
Grade 3 : 10 000 test cycles, for light duty hinges on windows only
Grade 4 : 25 000 test cycles, for light duty hinges on windows and doors
Grade 7 : 20 000 test cycles, for medium. heavy and serve duty hinges on door only
3. Test door mass
Eight door mass grades related to single-axis hinges are identified in this European standard as shown in table 1 below.
| | |
| --- | --- |
| Test door mass grade | Door mass |
| 0 | 10Kg |
| 1 | 20Kg |
| 2 | 40Kg |
| 3 | 60Kg |
| 4 | 80Kg |
| 5 | 100Kg |
| 6 | 120Kg |
| 7 | 140kg |
4. Fire Resistance
Two grades of fires resistance are identified:
Grade 0 : Not approved for fire /smoke resistant door assemblies
Grade 1 : Suitable for fire/smoke resistant door assemblies subject to satisfactory assessment of the contribution of the single-axis hinge to the fire resistance of the specified fire/smoke door assemblies. such assessment is beyond the scope of this European standard(see EN 1634-1).
5. Safety
Single-axis hinges are required to satisfy the essential requirement of safety in use. Therefore, only grades 1 is identified.

6.Corrosion Resistance
five grades of corrosion resistance are identified in accordance are identified in accordance with EN 1670:
Grade 0 : No defined corrosion resistance.
Grade 1 : Mild resistance
Grade 2 : Moderate Resistance
Grade 3 : High resistance
Grade 4 : Very High resistance
7. Security
Two grades of security are identified for single-axis hinges:
Grade 0 :Not suitable for use on burglar-resistant door assemblies
Grade 1 :Suitable for applications requiring a degree of security. Annex C of this European standard details the hinge grade to use for the level of security required.
8.Hinge grade
Fourteen grades are identified in this European standard and are detailed in table 2 below. the full classification is shown in the standard.
| | | | |
| --- | --- | --- | --- |
| Hinge grade | Usage | Test cycles | Door mass |
| 1 | Window | 10 000 | 10kg |
| 2 | Window | 10 000 | 20kg |
| 3 | Window/Door | 25 000 | 20kg |
| 4 | Door | 200 000 | 20kg |
| 5 | Window | 10 000 | 20kg |
| 6 | Window/Door | 25 000 | 40kg |
| 7 | Door | 200 000 | 40kg |
| 8 | Window | 10 000 | 40kg |
| 9 | Window/Door | 25 000 | 60kg |
| 10 | Door | 200 000 | 60kg |
| 11 | Door | 200 000 | 60kg |
| 12 | Door | 200 000 | 80kg |
| 13 | Door | 200 000 | 100kg |
| 14 | Door | 200 000 | 120kg |
BS EN 1634 Part 1: 2000
IS the European Fire safety Standard for determining the fire resistance of door and shutter assemblies including hardware designed for installation within openings incorporated in vertical seprating elements(doorsets). Locks can be assessed to be suitable on:
FD (30 minute) Fire Doors

FD60 (60 minute) Fire Doors
CE Marking
CE Marking is the easiest and safer route to providin compliance with the latest uk construction Product Directive for hardware used on fire, smoke and escape doors.
Technical Considerations
(1)Door weight, door size, location & intended use
To specify the correct hinges there are n number of factors that need to be taken into consideration. the majiority of situation are straightforward and present few problems.however it is important that specifiers recognise where special care is required to ensure long and trouble free opertion. because of the wide variety of circumstances that exisit it is impossible to be perspective ,however the following is intended to draw attention to some of the potential problems areas and explain some of the principles involved.
(2)Factors to consider when specifying hinges
Is it a fire, smoke or emergency escape door?

How heavy is the door and what are the door dimension(height, width and thickness)?

What is the door's construction and are there any unusal features that could affect the hinges?

Where is the door situated e.g internal or external; is it near the coast or in a swiming pool?

What level of use/abuse will the door be subject to e.g office, hospital or school corridor?

What other items of hardware are to be fitted,that may be affect the hinge performance, typically door closer or door stops?

Any other unusal features involved e.g. door has radius top or the door is a bifold.
(3)Forces operating on a door
There are two main forces that they hinge has to cope with. the vertical load; and, as hinged doors are side-hung, the horizontal or letral load.
The verical load is a direct result of the gross door weight. The horizontal load is created by:
The door weight

The door height to width ratio

where the hinges are positioned.
The wider the door is in relationto its height, the greater the side load that the hinges and their fixing have to support.
(4)Locating the hinges
It is usual for at least three hinges to be fitted on doors; their positioning is determine by the size, weight and construction of the door and its intended use
(5)Genral guidelines
Top and bottom hinges must be as far apart as reasonable, to maximise their ability to cope with side load.

Consider any other factors that will increase the loadings of hinges and their fixings.

Additional hinges are needed for tall doors, to prevent warpin(doors taller than 2200mm should be fitted with four hinges).
As a professional door hinge manufacturer in China, we provide customers various exterior and interior door hinge, like UL hinge, Stainless steel hinge, Lift-off hinge, Flush hinge, Heavy duty hinge, etc. Our door hinge are high-quality, durable, anti-rust and textured. The door hinge we provide are suitable for wooden door, metal door, fire rated door, double door, single door, steel door of commercial or residential application.
All our products strictly according to international Standard, such as the ANSI, BS EN/CE, UL, BHMA standard.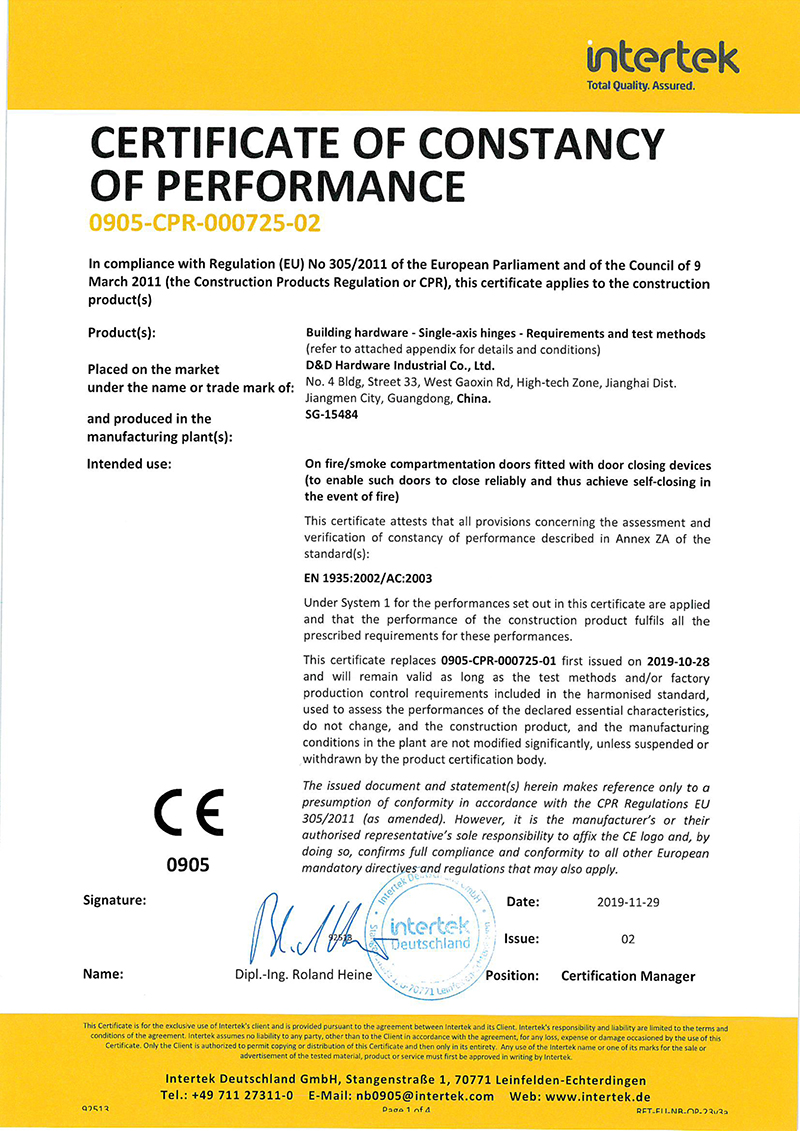 D & D's fireproof hinges meet the testing requirements of UL and CE, with the highest performance, and are suitable for education, health care, hospitality, residential and commercial applications. D & D can also provide detailed and professional hardware matching scheme according to different situations.
For further information about fire door or any of our services, click here.
Contact us Now:

Contact: David Jian
Mob:0086-139 2903 7292
Email: David@dndhardware.com, sales@dndhardware.com,

Jobby Zhang
Mob:0086-137 2599 9617
Email: jobby@dndhardware.com