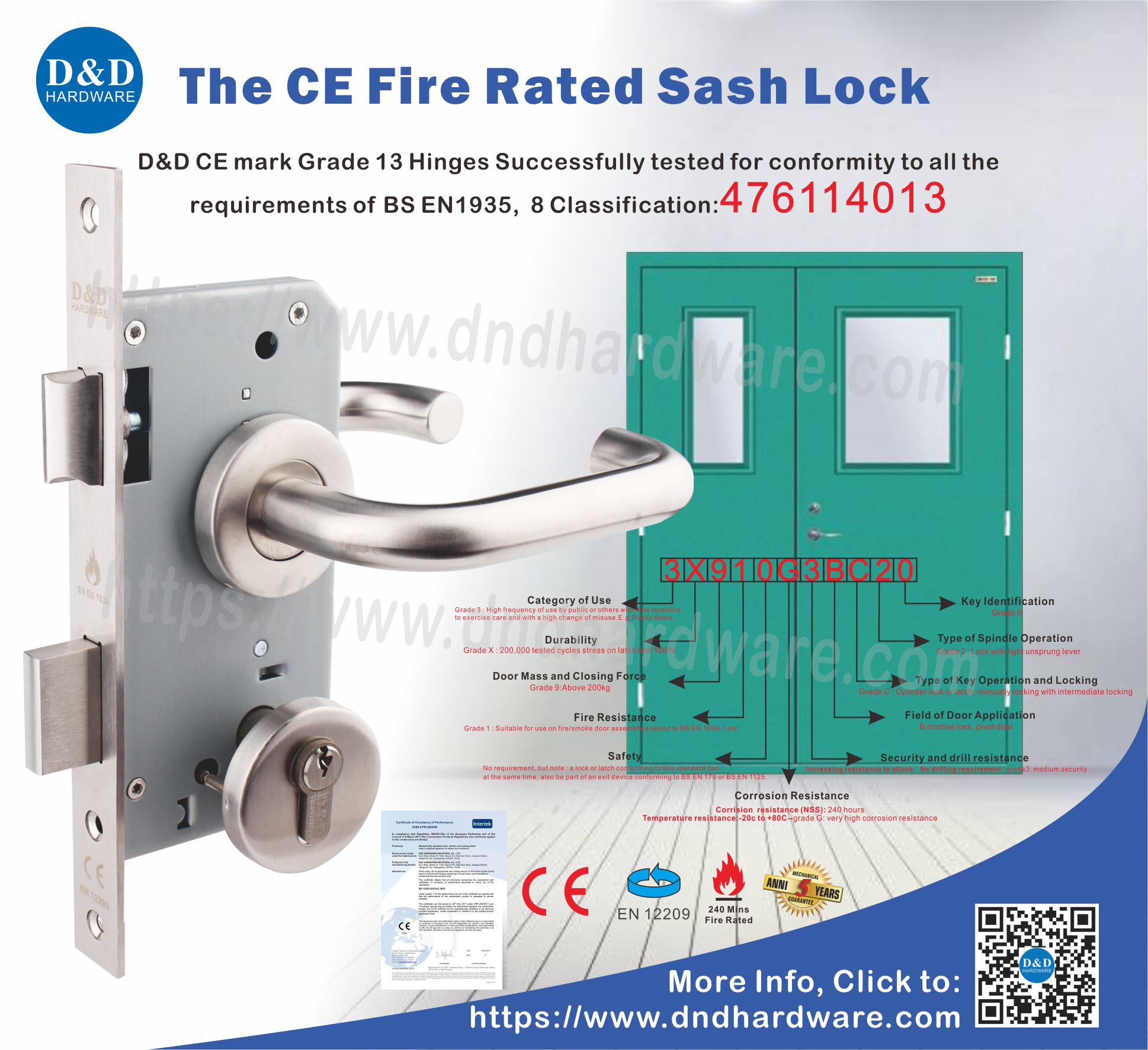 In order to provide an effective barrier to a fully developed fire, a door has to remain closed within the frame. In the case of single action doors, this role might be undertaken by a latch. In certain cases there is a need for a lock to be fitted to a fire-resisting door. This might be on a duct door which is normally kept locked with only occasional access to service equipment, or other fire-resisting doors which for security reasons are locked for periods of time.

Where security is in conflict with easy egress, a full risk assessment should be made. Doors which are normally unlocked when the building or area is occupied may be fitted with locks for out-of-hours security. A thumb-turn on the inside of the door will give means of escape to anyone inadvertently locked in. Where the door will be normally locked during occupation, e.g. a dispensary or a wages office, then hardware such as panic escape devices to BS EN 1125 or emergency exit devices to BS EN 179 should be used.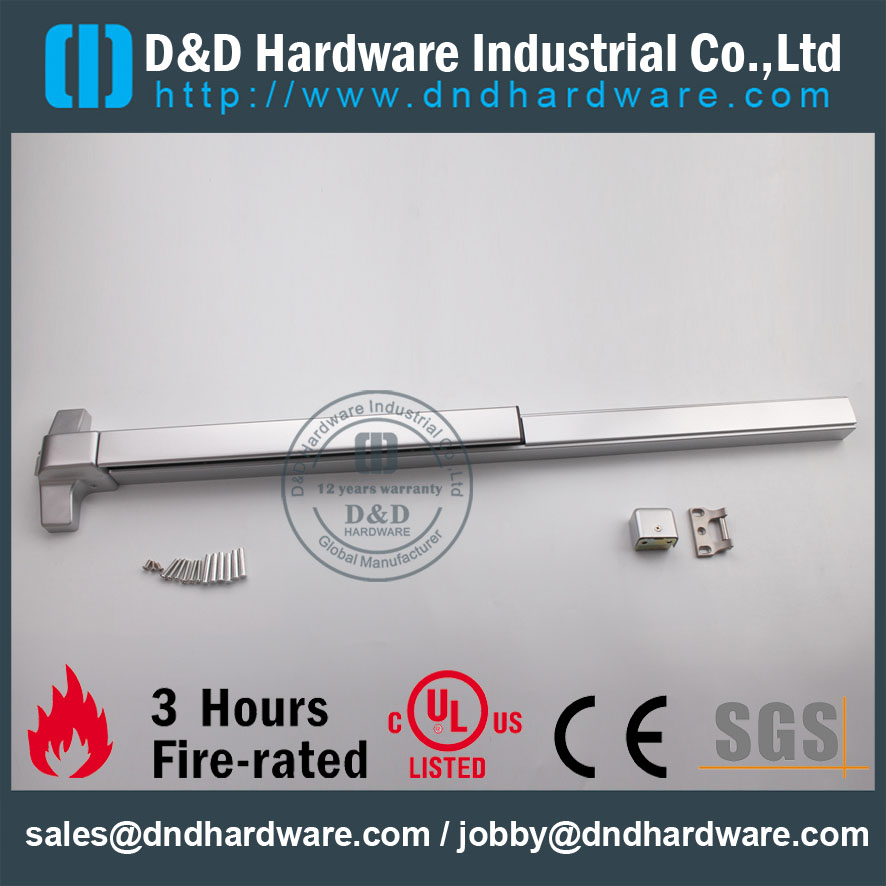 In fitting locks to fire-resisting doors, the potential fire performance of a door might be reduced due to:
• removal of a section of the door leaf, door frame or seal,
• leaving voids within the structure of a timber door,
• adding materials which could cause heat transfer problems in a timber door,
• through fixings creating thermal bridges in a timber door,
• using materials of low melting point (less than 800ºC, or 900ºC for steel doors over 90 minutes resistance) in components which, if they should melt, could cause a failure of functionality of the device.
• locks containing materials which might flame.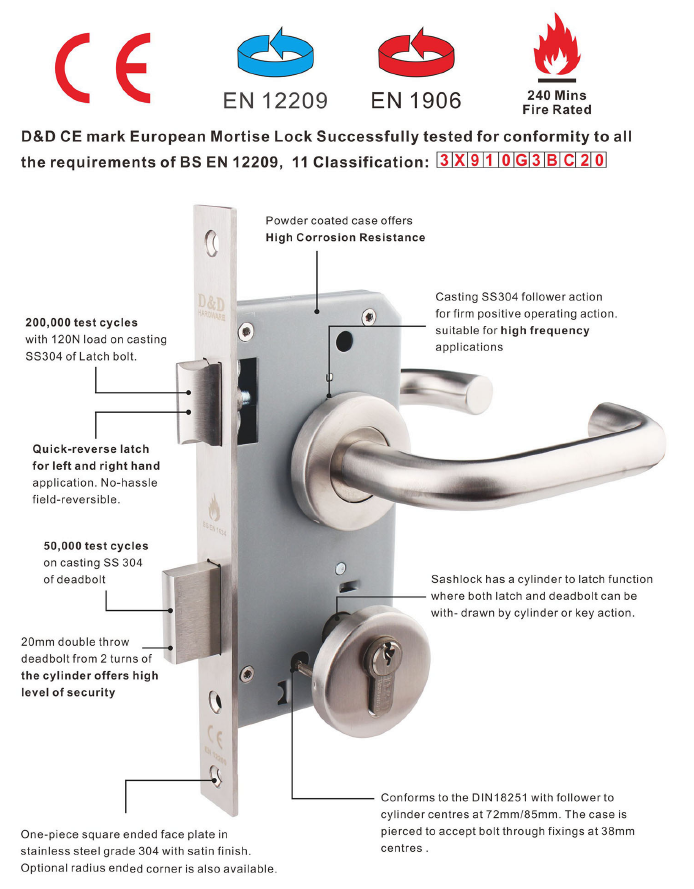 The following are suggestions for installing fireproof mortise locks:
• Must be CE marked to BS EN 12209.
• And preferably, should be provided with additional product.
•The mortise lock must have demonstrated its suitability for the intended purpose by inclusion in satisfactory fire tests to BS EN 1634-1 or BS EN 1634-2, on a type of door and configuration in which it is proposed to be used. This evidence should be provided by an approved third party certification or testing body .
•The mortise locks with low melting point (less than 800°C, or 900ºC for steel doors over 90 minutes resistance) components, which are critical to the retention of the door in the closed position, should NOT be used unless proven by specific tests.
•The locked doors on escape routes should be open-able by one hand operation.
•A regular programme of maintenance must be undertaken to ensure that the correct operational performance is maintained for the life of the building.
•To reduce the removal of timber from doors, the mortise locks should be as small as is practicable.
The fire rated door mortise lock is the focus of fire door. It is responsible for the safety performance of daily use door. It can withstand flame temperature in case of fire, guarantee the functionality of fire door, and effectively prevent fire and smoke from spreading and protect people from Escape quickly by using the fire proof door.
The D&D CE mark European mortise lock has been successfully tested to comply with all requirements of the BS EN 12209/ DIN 18251. 11 classifications: 3X910G3BC20.
Latch (casting): SS304 (durability: X grade, 200,000 test cycles, the latch cycle load is 120N)
Dead bolt: SS304 (durability: X grade, 50,000 test cycles)
EN 1634: 240 minutes fire rated.
Suitable for installation in fire doors, escape doors, smoke doors, wooden doors, metal doors, swing doors, etc.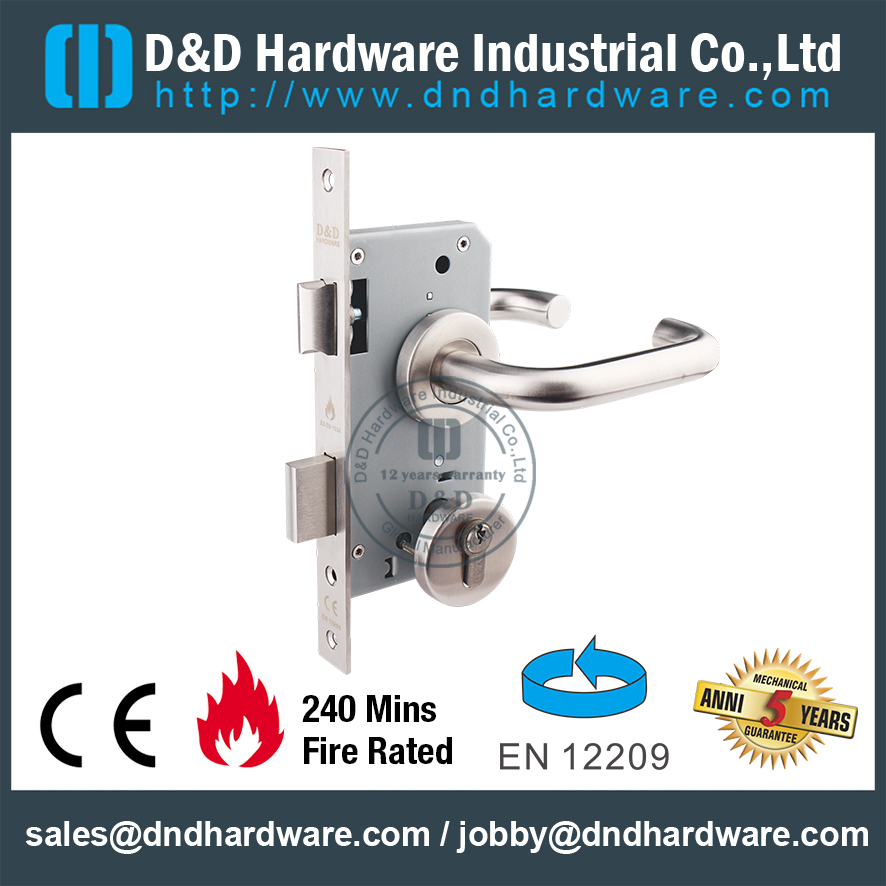 D&D can also provide a complete set of solutions for pedestrian circulation, bringing customers a safe, convenient and reliable door configuration program.
For further information about mortise lock or any of our services, click here.
Contact us Now:
Contact: David Jian
Mob: 0086-139 2903 7292
Email: David@dndhardware.com, sales@dndhardware.com
Jobby Zhang
Mob: 0086-137 2599 9617
Email: jobby@dndhardware.com