What are the features of Cylinders locks to BS EN 1303?
Views:0 Author:D&D Hardware Publish Time: 2021-09-27 Origin:D&D Hardware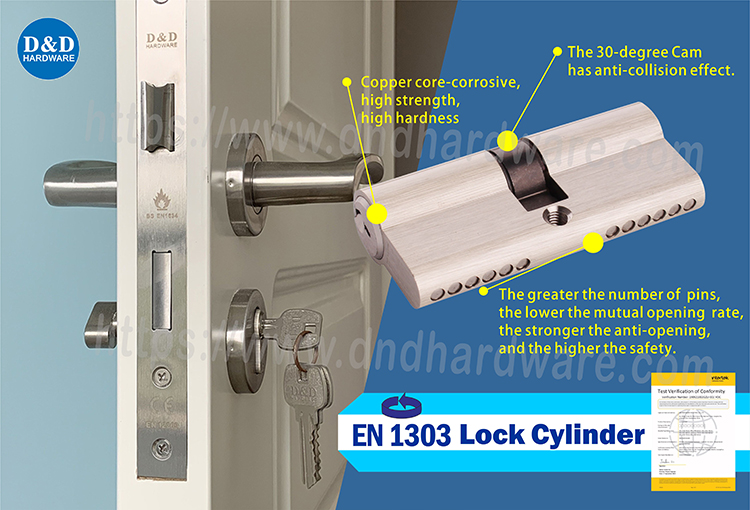 SCOPE
This European standard applies to cylinders for such locks as are normally used in buildings and are designed to be used with cylinders. It identifies one category of use grade, three grades of durability, three grades of fire resistance, four grades of corrosion and temperature resistance, six grades of key security, and five grades of attack resistance.
CLASSIFICATION
Almost all European architectural hardware standards follow a common format to help ease their understanding by users. Each product is classified under a number of performance headings and, generally, these are the same for all products. All products are "marked" with a six or more digit classification coding which shows, in fine detail, just what levels of product performance are being claimed for the item. The classification system when applied to all items of architectural hardware, will enable complementary items all to be specified to, for instance, a common level of corrosion resistance, category of use, door mass, etc. This standard classifies cylinders using an 8 digit coding system.
Digit 1 Category of use
One category is identified:
Grade1: Keys shall resist a torque of 2.5Nm and still be usable.
Digit 2 Durability
Three grades are identified according to the number of test cycles achieved:
Grade 4: 25 000 cycles
Grade 5: 50 000 cycles
Grade 6: 100 000 cycles
Digit 3 Door mass
No requirement.
Digit 4 Fire resistance
Two grades are identified as follows:
Grade 0: not suitable for fire/smoke resistant door assemblies
Grade 1: suitable for fire/smoke resistant door assemblies subject to satisfactory assessment of the contribution of the cylinder to the fire resistance of the specified fire/smoke door assemblies. Such assessment is beyond the scope of this European standard (see EN 1634-1).
Digit 5 Safety
No requirement.
Digit 6 Corrosion and temperature resistance
Four grades are identified as follows:-
Grade 0: no corrosion or temperature resistance requirements
Grade A: BS EN 1670 Grade 3 corrosion resistance (96 hours NSS): no temperature resistance requirement
Grade B: No corrosion resistance requirement: resistance to -20/+80°C temperature extremes
Grade C: BS EN 1670 Grade 3 corrosion resistance: resistance to -20/+80°C temperature extremes

Note:
- No distinction is made between the inside and the
outside of either the cylinder and/or the door.
- On completion of the test, the cylinder must operate
using a maximum 1.5 Nm torque on the key.
Digit 7 Key related security
Six grades are identified and the principal requirements are summarised in Table 1 below:-
Table 1: Key related security
Digit 8 Attack resistance
Three grades are identified and the principal requirements are summarised in Table 2 below:-
Table 2: Attack resistance

EXAMPLE:
The following marking denotes a cylinder meeting the required category of use Grade 1, durability Grade 6
(100 000 cycles), no requirement for door mass, no fire resistance or safety in use requirement, having Grade C
corrosion resistance, Grade 6 key related security and Grade 0 attack resistance
MARKING
BS EN 1303: 2005 requires that the classification relevant to the cylinder shall be quoted in the accompanying documentation, on its labelling or packaging and/or by marking the product itself or by more than one of these methods.
The marking/labelling shall include the following:
(a) manufacturer's name or trademark, or other means of identification.
(b) product model identification.
(c) the eight digit classification listed above.
(d) number of the European standard.
APPLICATIONS
The high-quality lock cylinder increases the service life of the door lock and reduces the frequency and consumption of replacement. The lock cylinder of D&D hardware has passed the EN1303 life test and has different functional properties, which can be used for doors in different public places such as public buildings, industrial places, medical buildings, and educational places. D&D can also provide a complete set of solutions for doors with different functions and different environments, bringing customers safe, convenient and reliable door hardware configuration solutions.
For further information about door lock cylinder or any of our services, click here.
Contact us Now:
Contact: David Jian
Mob: 0086-139 2903 7292
Email: David@dndhardware.com, sales@dndhardware.com
Jobby Zhang
Mob: 0086-137 2599 9617
Email: jobby@dndhardware.com