The role of building hardware in fire-resisting and emergency escape doors
Views:0 Author:D&D Hardware Publish Time: 2021-09-01 Origin:D&D Hardware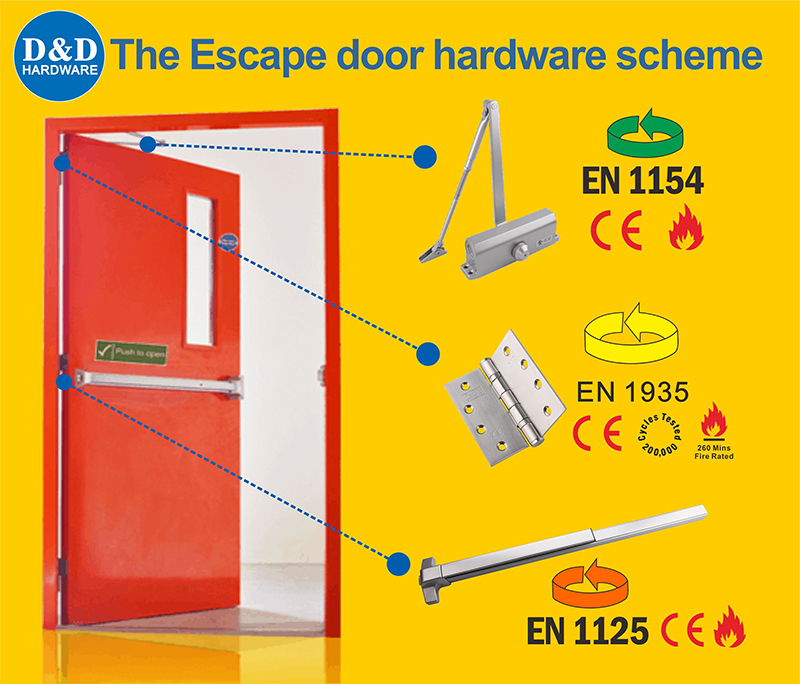 Some items of building hardware are essential to ensure that the fire-resisting door stays closed in its frame in a fire emergency. Products fitted as "Essential" items include:
★ Pivots or hinges – these attached the door onto the frame, and hinges might also help to stop it bowing.
★ A door closing device – e.g. an overhead door closer or floor spring ensures that the door closes reliably and stays shut.
★ And/or a latch/lock – in some cases, a latch or lock takes on the role of holding the door shut (in lieu of the door closing device).
These items must be carefully selected to ensure that they will perform their role satisfactorily. Most other items of building hardware on the door perform a function not directly associated with its fire performance ("non-essential"), but they must in no way impede or reduce the door's ability to withstand fire attack for the specified time. This also requires careful selection. Too often, holes are drilled through timber fire doors, and large metal components are attached, with no thought as to the consequences.
For steel doors, care must be taken to ensure that non-metallic materials, such as plastics, on the unexposed face of the door will not support combustion, due to the relatively high temperatures reached on this type of door. Many ancillary items might not have been included in fire tests, and there might be no evidence to show whether or not they affect fire-resisting door performance. Also, it cannot be assumed that building hardware tested on timber fire-resisting doors will necessarily perform successfully on steel doors, and vice-versa.
Door hardware that has been included in successful fire tests has reached one goal, but there is an additional goal – durability. When fire tested, the door, the seals and hardware are brand new, and no significant cycling (opening and closing movements) takes place before the test.
Those items performing a role essential to the successful operation of the fire-resisting doors – hinges, closing devices, latches or locks – should be chosen for their ability to cope with the type of use to which latch wears badly, it is unlikely that the door will maintain its essential self-closing function. This, of course, will defeat the main purpose of the fire door, and the safety of people and property is put at risk.
Door hardware is available to meet a variety of performance and durability levels, and selection of appropriate products will save on maintenance costs and, when put to the ultimate test, will save lives. BS EN 14600:2005 requires a minimum cycling (durability) of 20,000 cycles prior to the fire-resistance test. Although not obligatory, it seeks to establish the efficiency and safety of installation of fire-resisting door assemblies.
Similarly, door hardware on escape route doors has to permit the occupants of a building to make their escape safety to a place outside the building. The exact functional requirements will vary according to the circumstances and must be decide on the basis of a risk assessment. However, the building hardware, particularly the hinges and the emergency/panic exit devices, mush always have sufficient strength and durability to remain effective for an economically reasonable working life under the properly when required could result in occupants being injured while attempting to escape, or even trapped, with potentially fatal consequences.
Fire doors and escape doors are related to people's lives. To ensure the quality of steel doors, the selection of hardware accessories is also an important link. Since fire doors are special for fire prevention, their accessories naturally can not melt in case of fire, so the selection of hardware accessories for fire doors must be strict and pass the test. Each fitting is essential. These fittings complement each other and work together to promote the smooth play of the role of the fire door.
Door hardware standardization plays a key role in effectively improving and solving door quality problems. The use of door hardware standardization can improve, stabilize and control the comprehensive performance of the door, minimize the problems in production, installation and after-sales, and ensure the door quality.D & D has high-quality door hardware production and sales capacity, and is distributed in projects around the world to produce third-party Certified Solutions for the health, education, business and accommodation sectors, including fire protection, safety and extended performance standards.
For further information about fire escape door hardware or any of our services, click here.
Contact us Now:
Contact: David Jian
Mob: 0086-139 2903 7292
Email: David@dndhardware.com, sales@dndhardware.com
Jobby Zhang
Mob: 0086-137 2599 9617
Email: jobby@dndhardware.com