The key to buying an indoor door lock - Pay attention to the lock cylinder, lock body!
Views:13 Author:Site Editor Publish Time: 2019-04-13 Origin:Site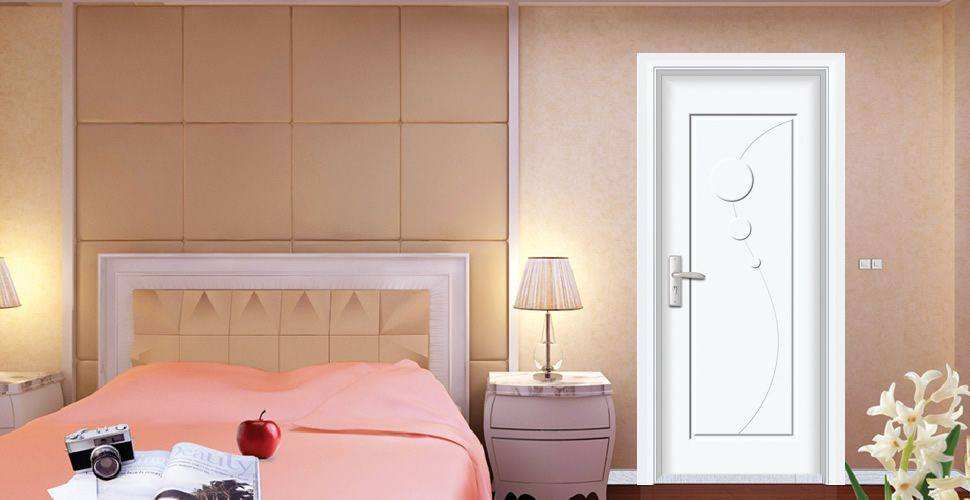 In modern home decoration, there are often some inconspicuous parts that play an important role. And we often overlook the importance of them, know that there is a problem, and everyone began to pay attention, then it was already late. Among them, there are indoor door locks that are often overlooked. In general, indoor door locks are in contact with us every day, so we must pay attention to its purchase work. However, for home improvement white, because of the little knowledge of interior door locks, it is difficult to quickly purchase a truly beautiful and high quality product. The interior door lock is one of the hardware. Its role is relatively large. It can be said that the privacy of our home is guarded by it. At the same time, it directly affects the use effect and service life of the interior door. Since it is such a key component, how can we choose it?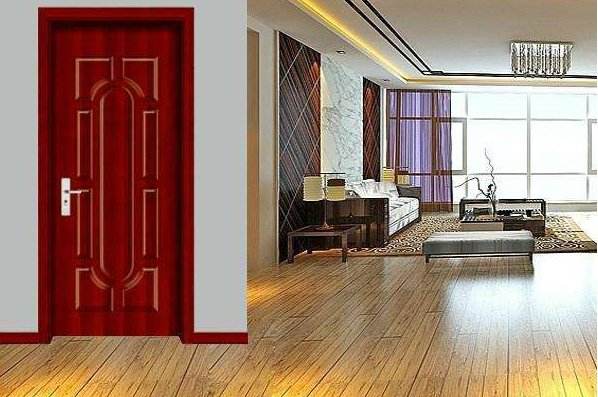 In addition to observing its appearance, the most important thing is to check the quality of its lock cylinder and lock body, especially the lock cylinder. If the quality of the lock cylinder is not enough, then the probability of being opened by other items will be higher. So what are we going to pay attention to?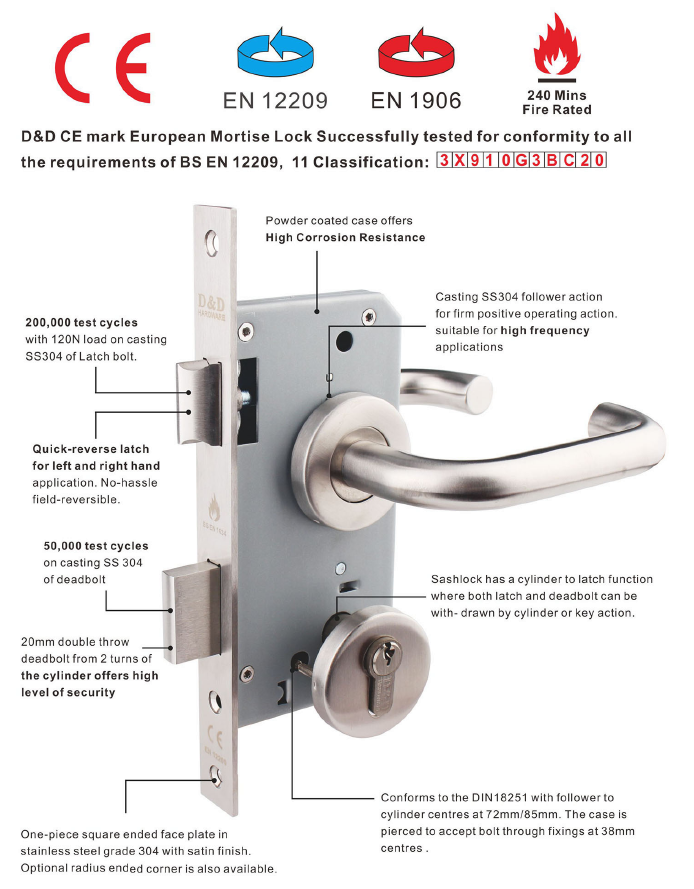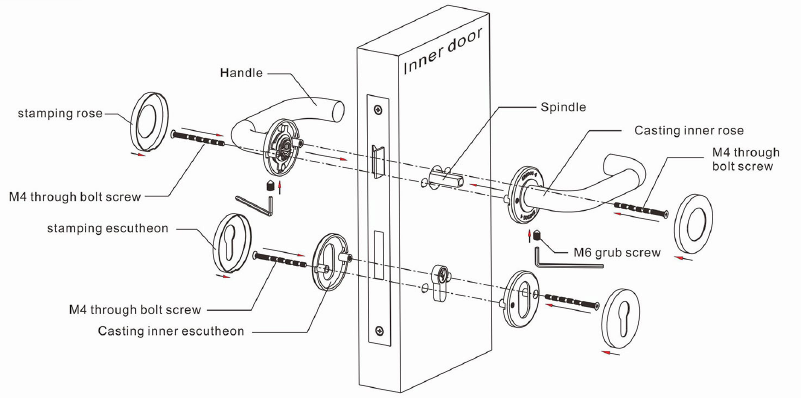 First, the material of the lock core
There are many types of locks on the market. According to the material, stainless steel is the best, except for copper. We can't be perfunctory when we choose, try to choose 304 materials. In addition, for the iron interior door locks on the market, it is recommended that you do not buy them, because after using for a period of time, its plating layer is more likely to fall off, causing rust problems, thereby damaging the life of the indoor door lock.
The body of the lock - Mortise Locks
The D&D range of architectural locks is manufactured to the highest engineering standards and designed to offer a high price / performance ratio.
They have been successfully type tested to all the requirements of BS EN 12209 / EN 1634, 240 Minutes Fire Rated. Solid stainless steel latch bolts, deadbolts, followers, for end and strike plate provide enhanced durability and security.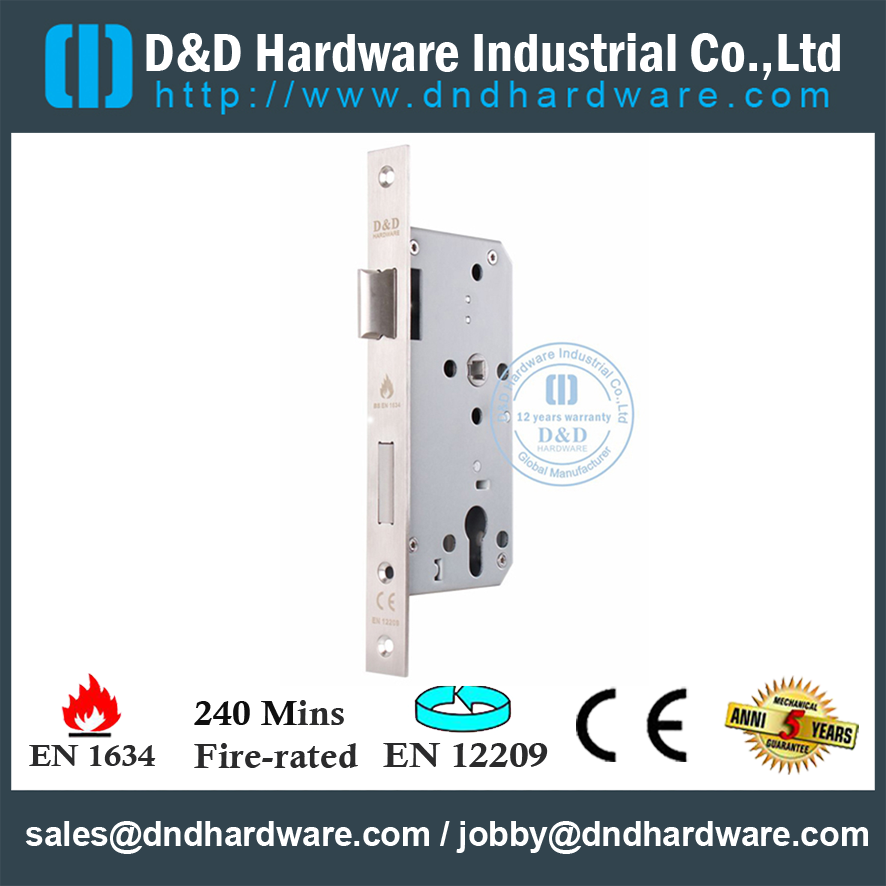 Second, the lock cylinder of the indoor door locks
It should be known that the quality of the lock cylinder is directly related to the safety of the indoor door lock, so we must pay more attention to its quality when selecting. Normally, a lock cylinder with fewer eyeballs is easier to open, and those with more eyeballs are more secure. Then how do we identify the lock cylinder of the indoor door lock when we purchase? It is actually our common "tooth flower", and the lock core of less than 5 teeth is not to be purchased. In addition, for the lock body of the indoor door lock, its quality needs to pay more attention, try to choose more insurance, such as double tongue or multi-tongue, so it is more secure in terms of safety.
The D&D lock cylinder use EN1303 D&D lock cylinder and DIN 18252/09-1999 standard. Quality Solid Brass Body, and 30 Degree Offset Cam Inhibits Knock Through. The lock cylinder has 6 Pins Standard, 10 Pin High Security with Two Line Pins, Other Sizes Available. Cylinders Available In a variety of finish
And the key management is Kd, Master Key, Keyed Alike Grand Master Key, Construction Key.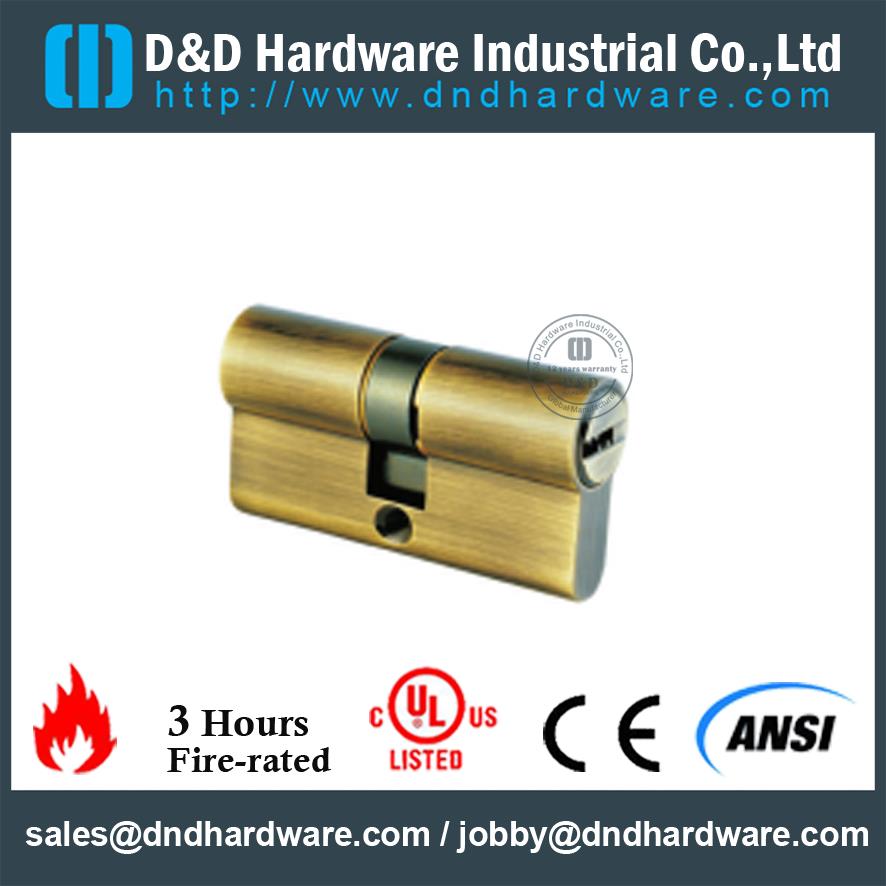 Third, the appearance of the indoor door locks
In the current home decoration, the decorative effect of the hardware is more and more attention. The natural interior door lock is no exception. Its appearance is not good-looking. It is directly related to the whole interior door and the aesthetics. Therefore, we can't ignore its appearance when purchasing. Usually we pay more attention to these two points when purchasing: whether its surface is delicate and smooth, and there are no scratches and other defects. Second, the key to the opening of the indoor door lock is not smooth and smooth; it will not only affect the appearance, but also affect the use. Material 304 indoor door lock is popular. D&D lever handle had made by stainless steel 304/316. Has spring assisted chassis, suitable for35mm-55mm thickness wooden doors and Metal doors. Finish: SSS, PSS, PVD, AB, AC .And have same plate design with multiple Lever and functions to suit different applications. Suitable for the needs of different guests.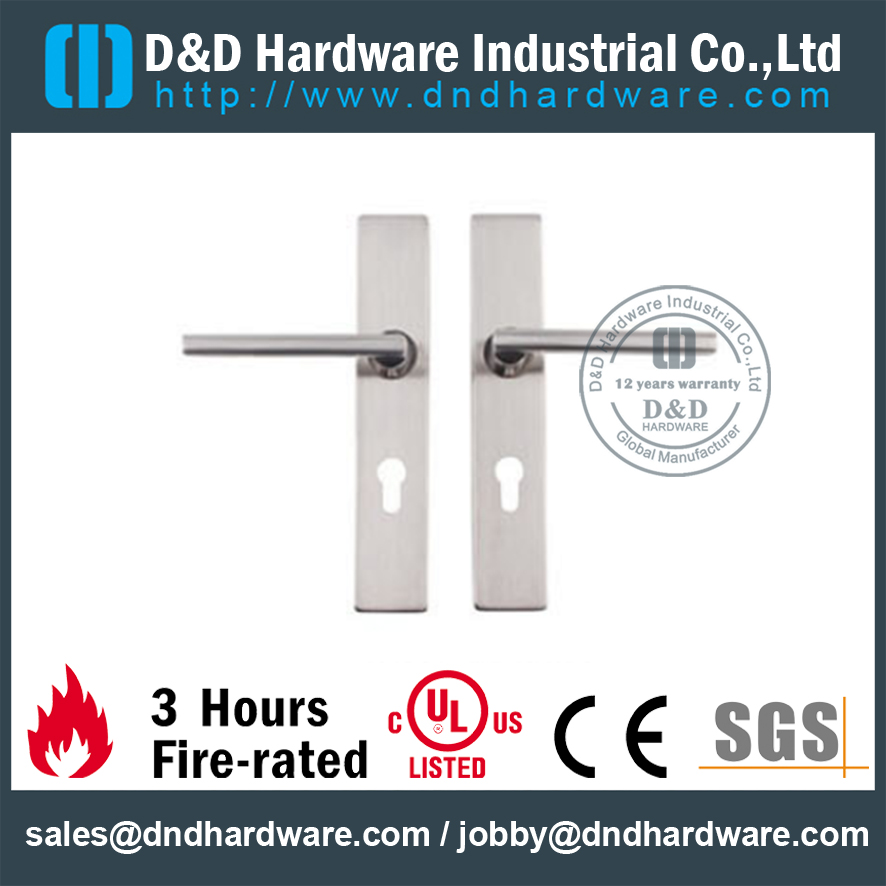 Of course, the indoor door lock must be well selected and maintained, so that it can maintain its excellent quality as always. Therefore, in daily use, we must not make it adhere to liquid such as moisture or detergent. When opening and closing the door, the movement should be as gentle as possible. Once the rotation is insensitive, do not inject normal lubrication into the door core. For the agent, you can add an appropriate amount of pencil core foam.
D&D Hardware Manufacture of high quality Stainless Steel Door Lock for Fire Rated Doors, Wooden Doors, Hollow Metal Doors, Escape Doors, Single Fire Rated Flush Doors, Double Doors, Security Doors, Louver Steel Doors etc. Whether you need hardware for metal, wood, or glass doors, D&D hardware have the right solution for you. Each door hardware solution is aim to help you more convenient and time-saving choice of the perfect door hardware suite. If you want to know more door solutions, welcome to contact us, we will respond to your needs and offer the solutions you seek.
More about door hardware click here.
Contact us now
Contact: David Jian
Mob:0086-139 2903 7292
Email: David@dndhardware.com, sales@dndhardware.com,

Jobby Zhang
Mob:0086-137 2599 9617
Email: jobby@dndhardware.com