Cylinders and Input Devices for Locks with ANSI/BHMA A156.5
Views:54 Author:Site Editor Publish Time: 2017-12-20 Origin:Site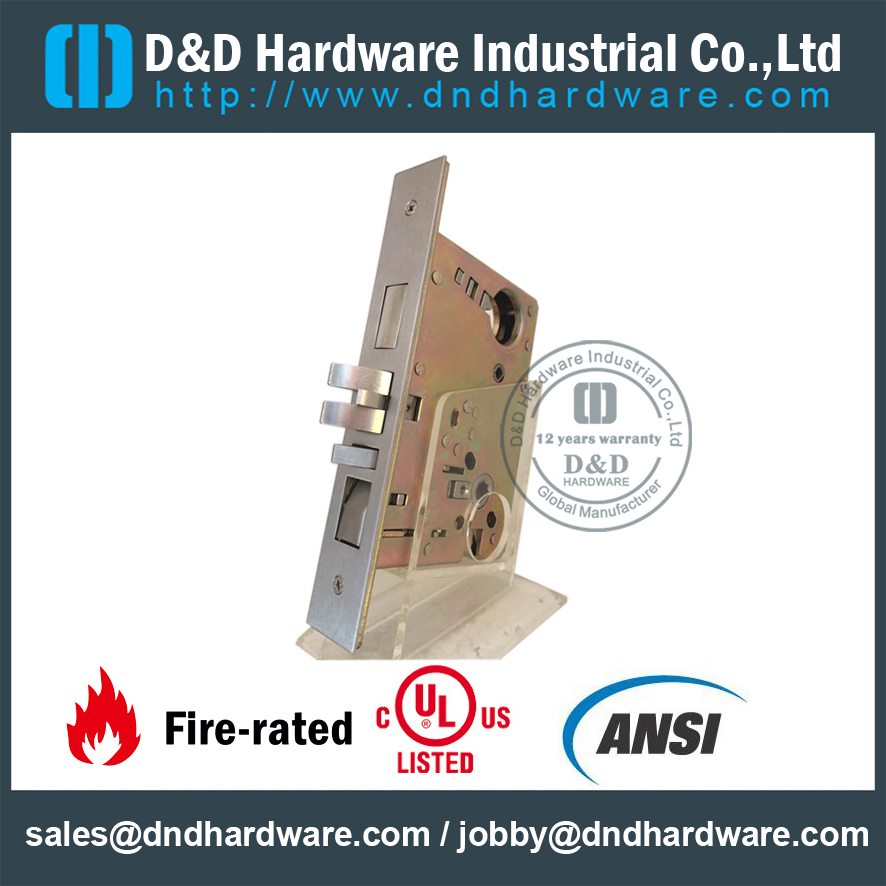 American National Standard Institute (ANSI) ANSI 156.5

Item

ANSI 156.5


Latch Bolt Cycle-test

Grade 1-500,000

Grade 2-300,000

Grade 3-200,000


Deadbolt Cycle-test

Grade 1-250,000

Grade 2-150,000

Grade 3-100,000

Fire Test

Pass UL 10 C 3 hours fire test

Anti-corrosion

Salt Spray Test 200 hours
1. SCOPE

1.1 ANSI/BHMA A156.5 establishes requirements for mechanical cylinders, electrified input devices, and push button mechanisms, which include operational and strength tests.

1.2 Related products are covered in additional BHMA Publications: A156.25 ANSI/BHMA A156.28 for Master Keying Systems, and ANSI/BHMA A156.30 for High Security Cylinders and Input Devices.
1.3 Auxiliary Locks previously included in this Standard are now found in ANSI/BHMA A156.36 for Auxiliary Locks.

1.4 Tests described in this Standard are performed under laboratory conditions. In actual usage, results vary because of installation, maintenance and environmental conditions.

1.5 The intent of this standard is to provide fair, uniform and repeatable testing of locking cylinders and input devices used in commercially available door hardware. Each testing section of the standard identifies the tools and/or fixtures applicable to that particular test. We recognize that any cylinder can be compromised or destroyed by excessive force or extended time or by the use of custom designed tools or techniques. For cylinders and input devices to be used beyond the scope of this standard, we recommend the guidance of or consultation with an independent physical security specialist.

1.6 No lock can provide complete security by itself. Locks may be defeated by forcible or technical means, or evaded by entry elsewhere on the property. No lock can substitute for caution, awareness of your environment, and common sense. Builders hardware is available in multiple performance grades to suit the application. In order to enhance security and reduce risk, you should consult a qualified locksmith or other security professional. For applications where pick resistance and other higher security protections are required consider locks meeting UL 437-2013 Key Locks, or ANSI/BHMA A156.30-2010 for High Security Cylinders.

1.7 Grade Qualifications Two classifications of tests are described in this Standard, Operational and Security. Manufacturers shall indicate the Grade level. A Grade 1 product shall meet all Grade 1 criteria, a Grade 2 product shall meet all Grade 2 criteria, and a Grade 3 product shall meet all Grade 3 criteria in each classification.
As a professional lock cylinders manufacturer in China, we provide customers various exterior and interior door lock cylinders. Our lock cylinders are high-quality, durable, anti-rust and textured. The lock cylinders we provide are suitable for wooden door, metal door, fire rated door, double door, single door, steel door of commercial or residential application.
All our products strictly according to international Standard, such as the ANSI, BS EN/CE, UL, BHMA standard.
Contact us Now:
Contact: David Jian
Mob:0086-139 2903 7292
Email: David@dndhardware.com, sales@dndhardware.com,

Jobby Zhang
Mob:0086-137 2599 9617
Email: jobby@dndhardware.com
D&D HARDWARE INDUSTRIAL CO.,LTD
ADD:No.4 Bldg,Street 33,West Gaoxin Rd,High-tech Zone, Jianghai Dist. Jiangmen City,Guangdong,China (Postcode:529000)

Https://www.dndhardware.com
Tel:+86-750-3652251, 3856396
Fax: +86-750-3856395, 3856397