ANSI and EN Hinge Comparison
Views:1286 Author:D&D Hardware Publish Time: 2015-09-23 Origin:D&D Hardware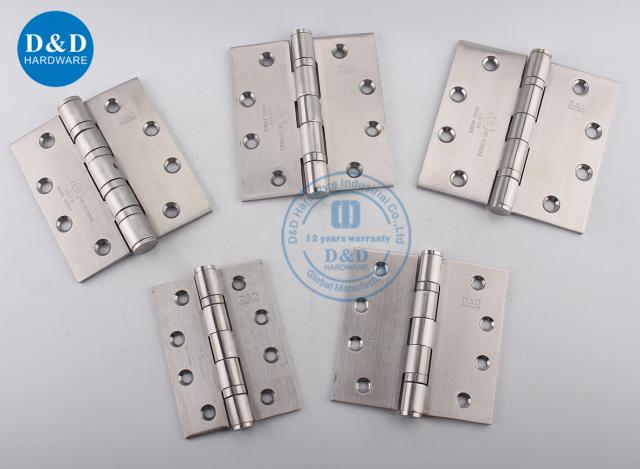 Hinges Standard: ANSI & EN


American National Standard Institute (ANSI) ANSI 156.1

This Standard establishes requirements for butts and hinges. Cycle tests, lateral and vertical wear tests, friction tests, strength tests, finish tests, and material and dimensional requirements are included.
Item

ANSI 156.1


Cycle-test

Grade 1-2,500,000

Heavy Duty 4 Ball Bearings

Grade 2-1,500,000

Standard Duty 2 Ball Bearings

Grade 3-350,000

Plain Bearing

Fire Test

Pass UL 10 C 3 hours fire test

Anti-corrosion

Salt Spray Test 200 hours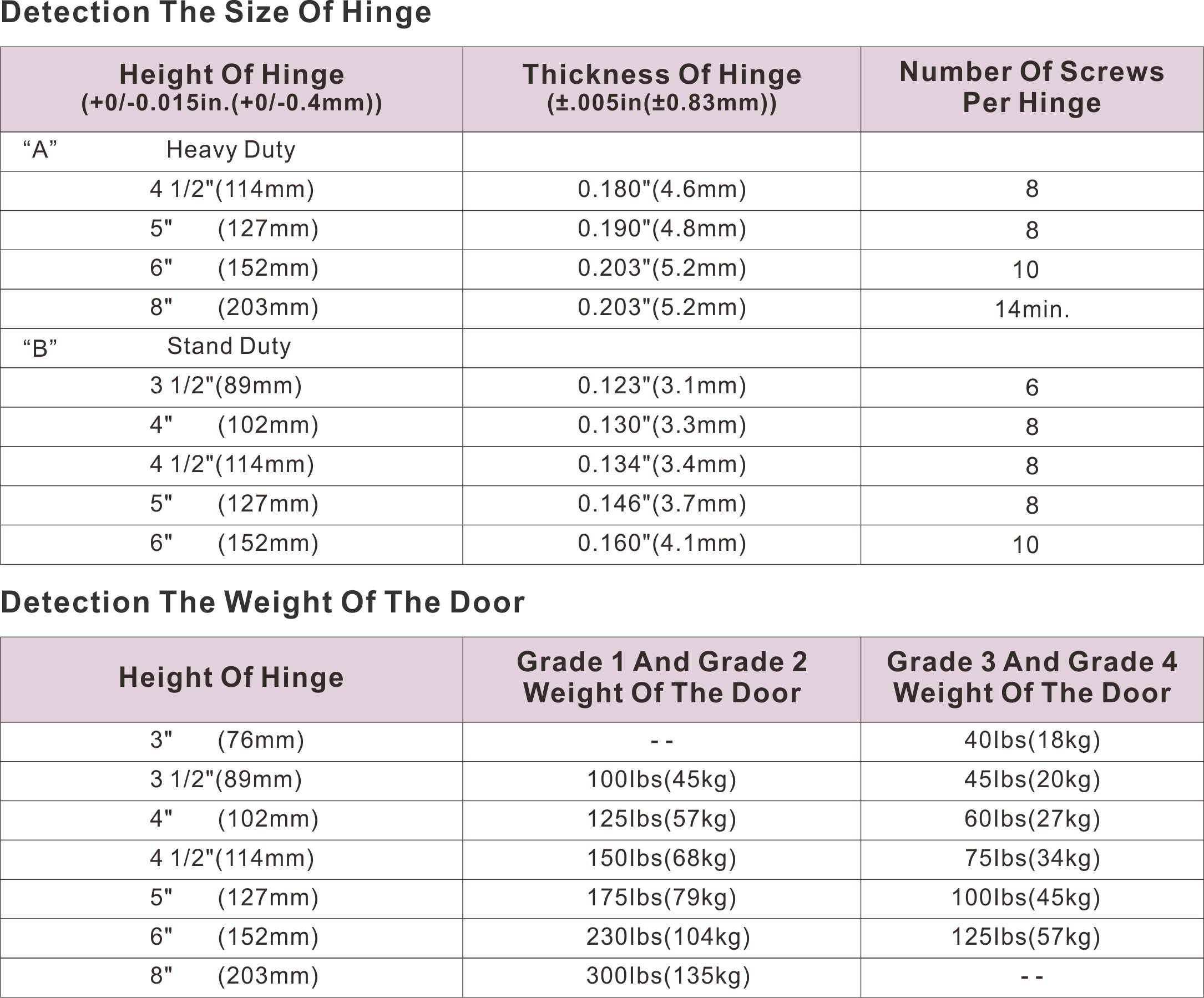 European (EN) EN1935-2002

BS EN 1935 classifies door furniture by using an 8 digit coding system. A similar classification applies to all building hardware product standards so that complementary items of hardware can be specified to, for instance, a common level of corrosion resistance, category of use, etc. Each digit refers to a particular feature of the product measured against the standard's performance requirements.
Item

Index

Description




Category of use

1-4

Grade 1 : Light duty

Grade 2 : Medium duty

Grade 3 : Heavy duty

Grade 4 : Severe duty




Cycles test




3/4/7

Grade 3 : 10 000 test cycles, for light duty hinges on windows only

Grade 4 : 25 000 test cycles, for light duty hinges on windows and doors

Grade 7 : 200 000 test cycles, for medium. heavy and severe duty hinges on door only






Door mass

0-7

Grade 0

------------------------------

10kg
Grade 1

------------------------------

20kg
Grade 2

------------------------------

40kg
Grade 3

------------------------------

60kg
Grade 4

------------------------------

80kg
Grade 5

------------------------------

100kg
Grade 6

------------------------------

120kg
Grade 7

------------------------------

160kg

Fire suitability

0/1

Grade 0 : Not approved for fire /smoke resistant door assemblies

Grade 1 : Suitable for fire/smoke resistant door assemblies subject to satisfactory assessment of the

contribution of the single-axis hinge to the fire resistance of the specified fire/smoke door assemblies.

such assessment is beyond the scope of this European standard(see EN 1634-1).

Safety

1

Single-axis hinges are required to satisfy the essential requirement of safety in use. Therefore, only grades 1 is identified.





Corrosion Resistance

0-4

Grade 0: No defined corrosion resistance.

Grade 1: Mild resistance

Grade 2: Moderate Resistance

Grade 3: High resistance

Grade 4: Very High resistance

Security

0/1

Grade 0:Not suitable for use on burglar-resistant door assemblies

Grade 1:Suitable for applications requiring a degree of security. Annex C of this European standard details the hinge grade to use for the level of security required.


Hinge Grade

1-14
D&D CE mark Grade 13 Hinges Successfully tested for conformity to all the requirements of BS EN1935, 8 Classification:476114013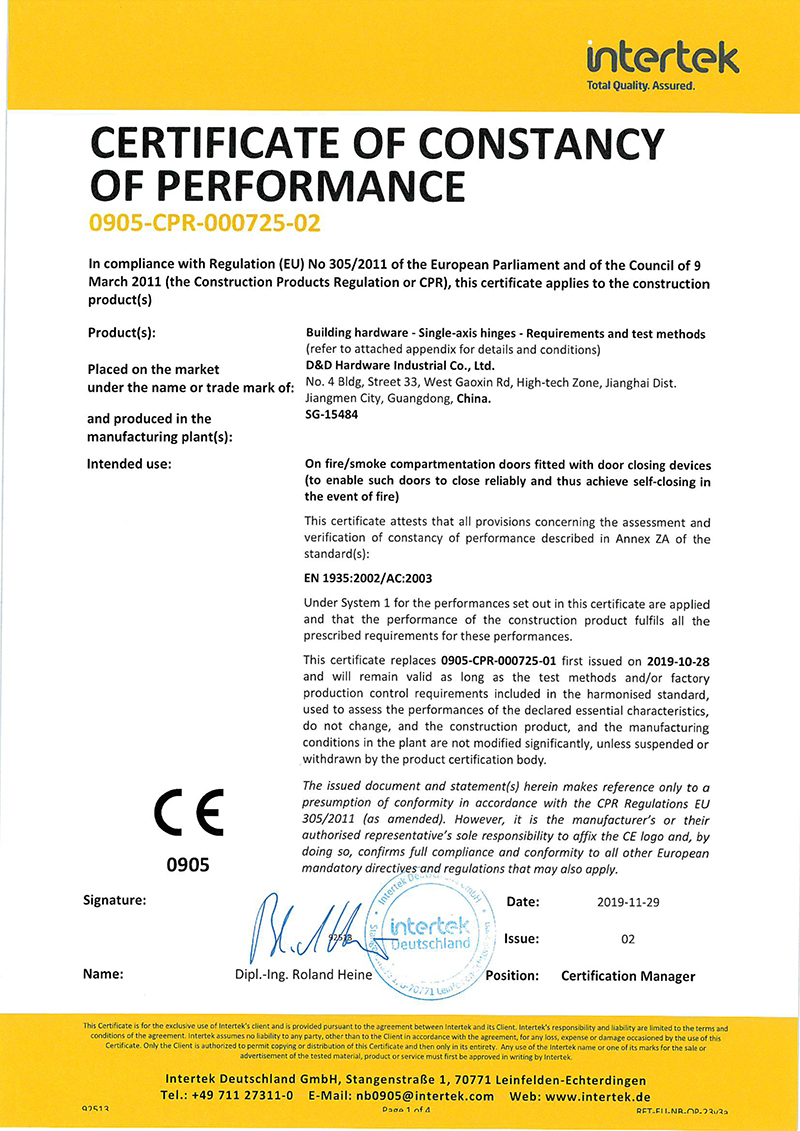 CE Marking
CE Marking is the easiest and safest route to providing compliance with the latest UK construction Product Directive for hardware used on fire, smoke and escape doors.
BS EN 1634 Part 1: 2000
It's the European Fire safety Standard for determining the fire resistance of door and shutter assemblies including hardware designed for installation within openings incorporated in vertical separating elements(doorsets).
Locks can be assessed to be suitable on:
FD30 (30 minute) Fire Doors
FD60 (60 minute) Fire Doors
D&D Hardware Manufacture of high quality hardware for Fire Rated Doors, Wooden Doors, Metal Doors, Escape Doors, Single Fire Rated Flush Doors, Double Doors, Security Doors, Louver Steel Doors etc.

Our products which include Door Hinges, Panic Exit Device, Lever Handles, Mortise Locks, Lock Cylinder, Door Closer, Door Bolts, Door Stopers, etc.
All our products strictly according to international Standard, such as the ANSI, BS EN/CE, UL, BHMA standard.
Contact us Now:
Contact: David Jian
Mob:0086-139 2903 7292
Email: David@dndhardware.com, sales@dndhardware.com,

Jobby Zhang
Mob:0086-137 2599 9617

Email: jobby@dndhardware.com
D&D HARDWARE INDUSTRIAL CO.,LTD
ADD:No.4 Bldg,Street 33, West Gaoxin Rd, High-tech Zone, Jianghai Dist. Jiangmen City, Guangdong, China (Postcode:529000)
Https://www.dndhardware.com

Tel:+86-750-3856396

Fax: +86-750-3856395