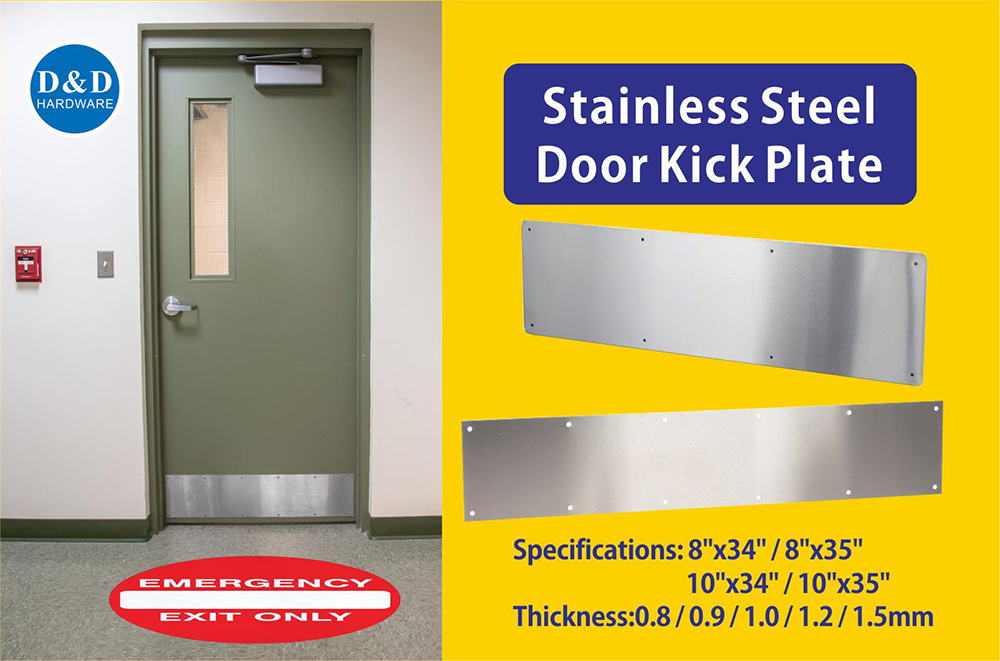 Protective plates are used on doors in all types of buildings. They are designed to protect doors from scratches, dents and other damage caused by moving equipment through openings.
Four types of protection plates available are:
•Armor Plates
•Kick Plates
•Stretcher Plates
•Mop Plates
Armor Plates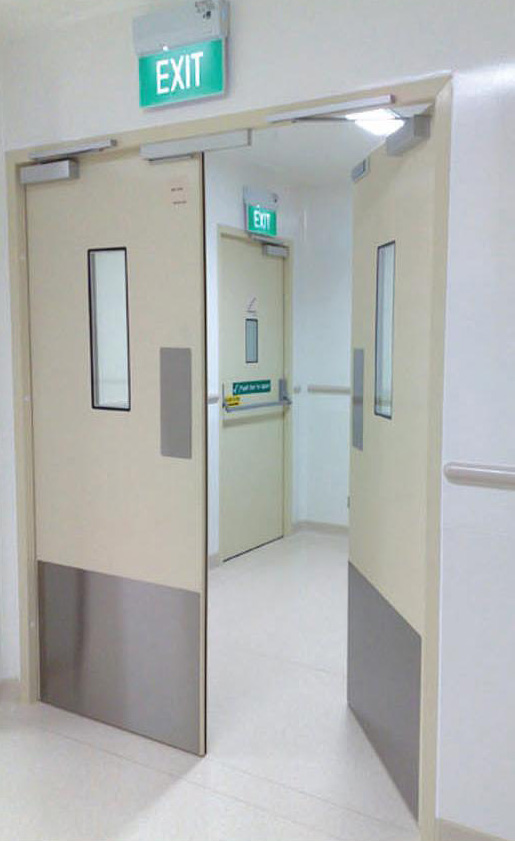 Armor plates are designed to be used on the push side of an opening to protect the lower part of a door. They are used in storage areas, patient rooms, operating rooms and cross corridor doors and are used to protect doors from the abuse of gurneys, dollies, trucks and carts.
Many armor plates are 42" high, but their height can range from 36" to 48". It is not unusual for the height of an armor plate to conflict with mounting height of an armor plate to conflict with mounting height of a mortise or bored lock-set. In these instances, the armor plates will have to be ordered from the manufacturer to be prepped for the appropriate hardware item. Some manufacturers will require a sketch and lock template be sent with the order, before prepping the armor plates.
Notched cutouts can also be used to allow the armor plate to be installed around the lock trim.
Sizing armor plates in width has to be done with care. Unlike kick and mop plates, armor plates are intended to cover the full surface of the door. Usually, an edge guard will also be used on the hinge and/or lock stile of the door, to protect the stiles from potential damage. The type and size of the edge guards will have a significant effect on the actual width of an armor plate, as will the profit size of the door.
Kick Plates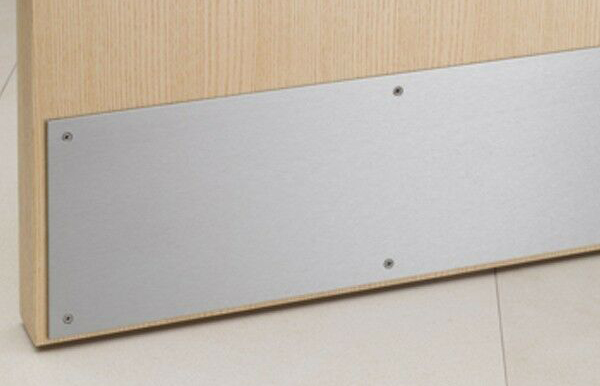 Kick plates are used on openings with self or automatic closing devices and are installed at the bottom of the door on the push side of the opening.
The width of kick plates is calculated from the nominal width of the door. Industry practice is to size the width of a kick plate 1-1/2" less than door width on single doors and 1" less than door width on pairs of doors. The recommended height of kick plates is 1" less than the height of the bottom rail, which commonly 8", 10" or 12".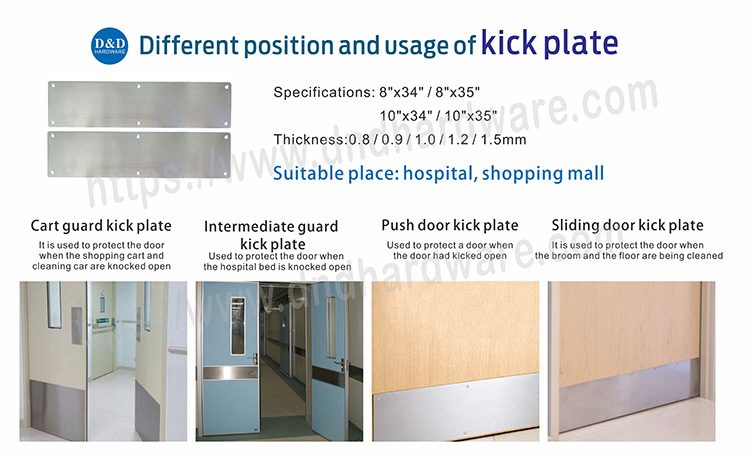 Where do we use a kick plate?
Consider the frequency and use of the door in determining when and where to use kick plates. All doors equipped with a door-closing device should be fitted with a kick plate. Doors not equipped with a door closer but located adjacent to a door where a kick plate will be used should also have a kick plate for uniform appearance. The inactive leaf of a pair of doors should also have a kick plate if the active door has one.
Mop Plates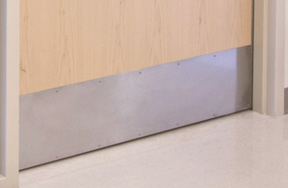 Mop plates are installed at the bottom of the door on the pull side of an opening and are used to protect doors when the floors are wet-moped, vacuumed or polished by mechanical equipment. It is very common to see their use in hospitals, nursing homes and schools where floors are constantly being cleaned.
Mop plates are generally 3" to 6" in height and are sized 1" LDW for both single and paired openings.
Stretcher Plates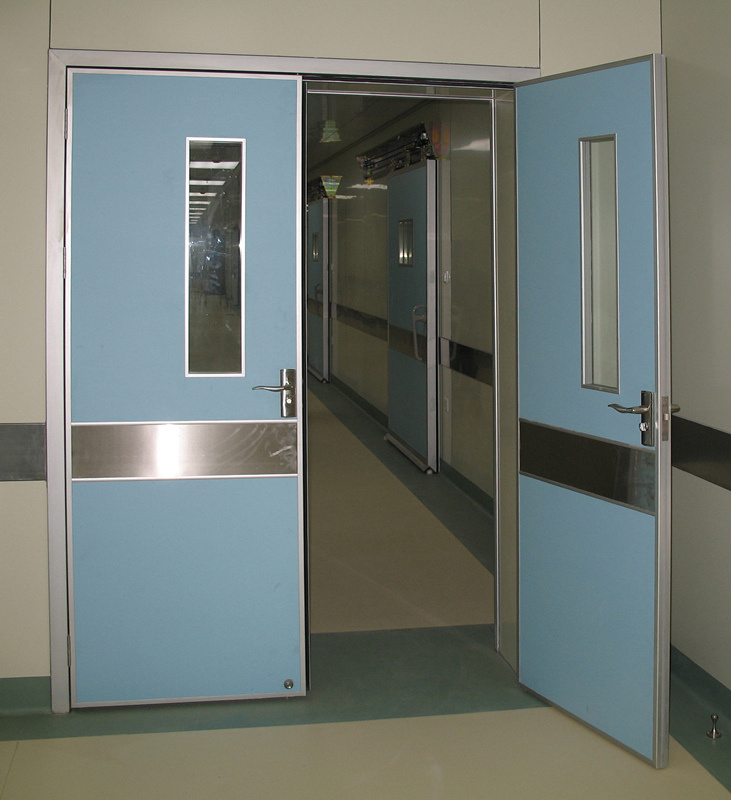 Stretcher plates, as the name implies, are designed to protect the door face from stretcher traffic. They are typically found in hospital and health care facilities and should be considered where damage to the door occurs at a specific height above the floor.
Stretcher plates are generally 8"-12" in height and are installed on the push side of the door. Their width is determined in the same manner as kick plates.
Fire-Rated Openings
The 1999 edition of the National Fire Protection Association's publication #80 –Standard for Fire Doors and Windows requires protection plates installed on fire-rated openings to be labeled unless they are installed at the factory by the door manufacturer, in accordance with the listing of the door. The exception to this requirement is that protection plates installed at the job site, and not more than 16" above the bottom of the door, do not have to be labeled. Remember, this requirement applies to edge guards, too.
If armor or stretcher plates are required for an opening, be sure to verify with the door manufacturer that these products can be used on their fire-rated doors. You may discover that these products have to be installed in a specific manner(i.e., with adhesive instead of screws) at the factory.
Fasteners
Typically, protection plates and edge guards are fastened to hollow metal and wood doors with Phillips oval head sheet metal screws (SMS) for maximum holding power. Adhesives are also used to attach protection plates and edge guards to the doors. Wood screws are not generally used, because the unthreaded portion of the screw is often longer than the thickness of the plate it is attaching, lessening the holding power of the fastener.
As you have learned, a wide variety of products is available to protect openings from damage from everyday use. Each product is designed for a specific purpose. D&D sources and delivers high quality components that comply with design specifications, as well as industry and governmental standards for safety.
D&D is your one stop door hardware partner!
For further information about door kick plates or any of our services, click here.
Contact us Now:
Contact: David Jian
Mob: 0086-139 2903 7292
Email: David@dndhardware.com, sales@dndhardware.com
Jobby Zhang
Mob: 0086-137 2599 9617
Email: jobby@dndhardware.com