How to install door cylinder?
Views:13 Author:Site Editor Publish Time: 2018-04-11 Origin:Site
Installing the cylinder of a euro lock may be necessary if a set of keys has been lost or you move into a new property and want to be confident that there are no keys unaccounted for. Or you may want to change the style of lock to one with an internal 'thumb turn' knob - this is ideal where you do not want to be locked out of a room (such as a child's or old person's room. Alternatively you may want to change from a 'thumb turn' lock to a double key style - probably advisable for a front door where there are children in the household.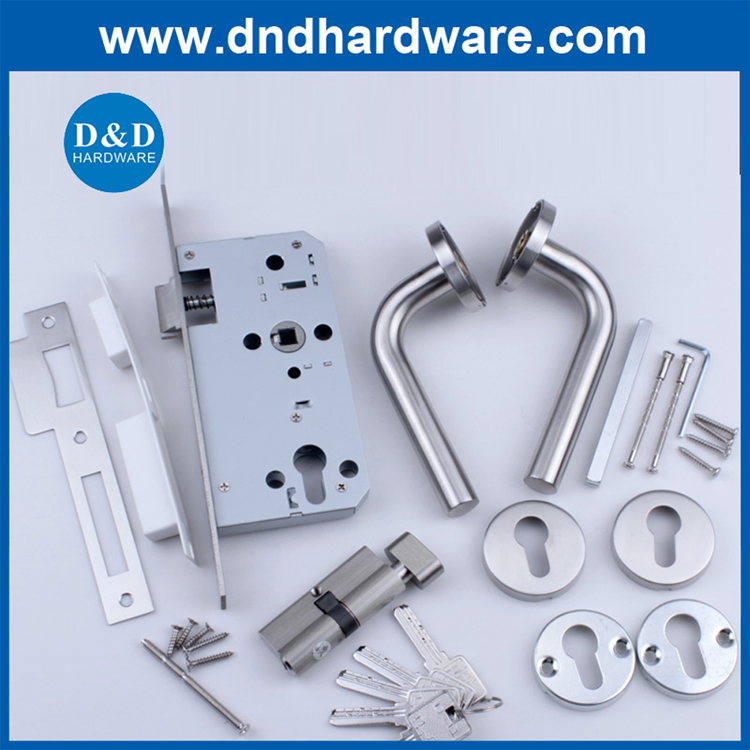 1.Unlock and open the door.
2.Locate on the edge of the door the screw securing the cylinder, (usually this will be a large headed screw in line with the lower end of the cylinder) - remove this screw.
3.Next insert the key in the lock and turn it so that the cam lines up with the body of the cylinder which will allow it to be withdrawn - the cam is not visible so this has to be done by feel - normally the position of the key needs to be about 25° off of the unlocked key removal position. The illustration to the right indicates the approximate position; however, it may be clockwise rather than anticlockwise as shown.

4.Once the cam has been aligned, the cylinder can be slide out to the key (or Thumb Turn knob) side. If the cylinder catches, try turning the key to the other side of the key withdrawal position.
If the cylinder will still not slide out of the door, the door furniture may be pinching the cylinder or the cam. In this case, loosen or remove the door furniture so that the cylinder is freed to slide out.
5.Measure and note the overall length of the cylinder and the 2 offset dimensions from the fixing screws (see sketch above) - if the offsets are different, note which goes to which side of the door.
6.If a new cylinder needs to be purchased, refit the cylinder in the door by reversing the above procedure - the cam can be aligned to the body by eye when replacing the cylinder.
D&D Hardware Manufacture of high quality hardware for Wooden Doors, Metal Doors, Escape Doors,Fire Rated Doors,Single Fire Rated Flush Doors, Double Doors,Security Doors, Louver Steel Doors etc.

Our products which include

Lock Cylinder,
P

anic Exit Device
,
Lever Handles
,
Mortise Locks
,
Door Hinges
,
Door Closer
,
Door Bolts
,
Door Stopers
, etc.
All our products strictly according to international Standard, such as the ANSI, BS EN/CE, UL, BHMA standard

.
Contact us Now:
Contact: David Jian
Mob:0086-139 2903 7292
Email: David@dndhardware.com, sales@dndhardware.com,

Jobby Zhang


Mob:0086-137 2599 9617




Email: jobby@dndhardware.com






D&D HARDWARE INDUSTRIAL CO.,LTD



ADD:No.4 Bldg, Street 33, West Gaoxin Rd, High-tech Zone, Jianghai Dist. Jiangmen City, Guangdong, China (Postcode:529000)

Https://www.dndhardware.com



Tel:+86-750-3856396





Fax: +86-750-3856395