Hinge for Fire-Resisting Doors(1)
Views:12 Author:Site Editor Publish Time: 2020-06-09 Origin:Site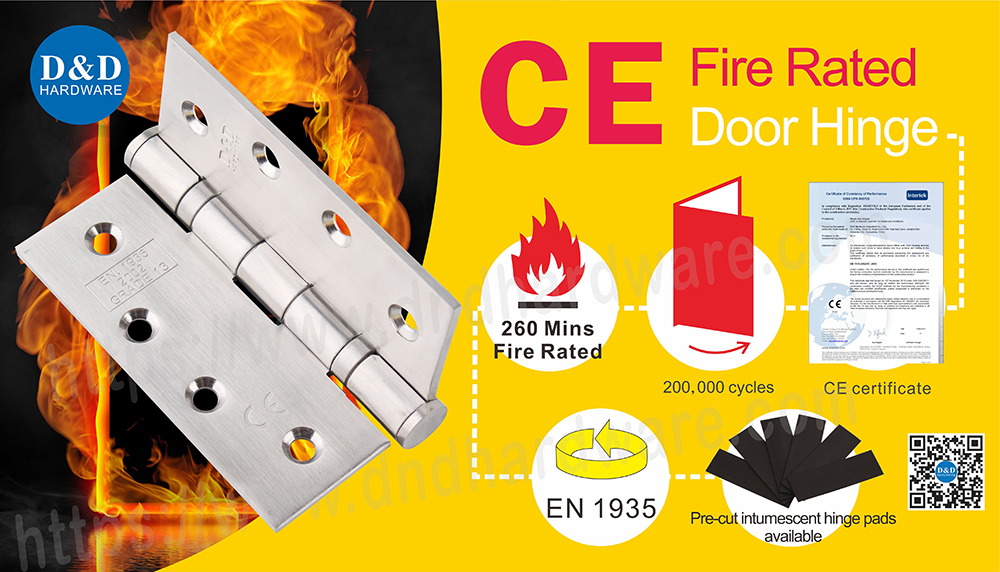 When used in a fire-resisting door assembly, the door leaf should be hung on single-axis hinges in accordance with local and national regulations. Hinges fitted to fire-resisting doors should be able to achieve the intended fire rating; also the hinge should be able to allow the door closing device, when fitted to a fire-resisting door assembly, to close the door leaf reliably from any angle to which it has been opened, overcoming the resistance of a latch or any seals when fitted.
Experience relating to escape from buildings and general safety has shown the importance of fitting doors on escape routes with suitable hinges to enable the occupants of the building to escape quickly and easily from a building in the case of fire or other emergency. Generally all doors on escape routes should open in the direction of emergency travel.
At the same time, where escape route doors are part of the final exit from a building, there will be some additional requirements for security of the door against intrusion and burglary. In this case the hinges should be of a design so that they cannot be removed or parted whilst the door is closed, ensuring that the building and its contents are secured against unauthorized entry.
Where escape route doors are part of the fire compartmentation of the building, there will be additional requirements to ensure that the hinges fitted do not compromise the fire-resisting performance of the doors.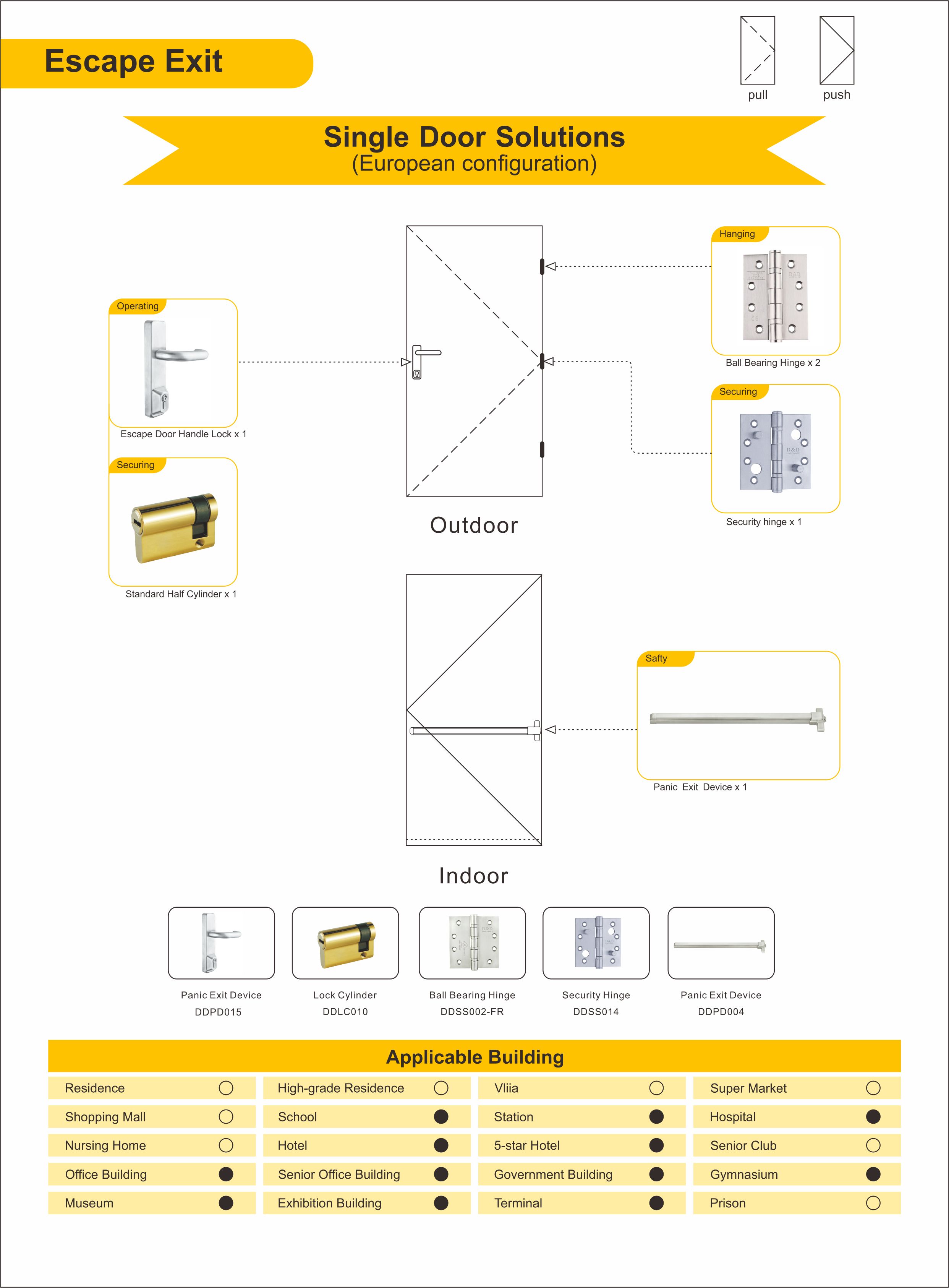 When used on fire-resisting doors the hinge must be CE Marked to BS EN 1935 and have demonstrated its ability to be suitable for the intended purpose, by inclusion in satisfactory fire test to BS EN 1634-1 or BS EN 1634-2, on a type of door assembly and configuration in which it is proposed to be used. An approved third party certification or testing body should provide this evidence.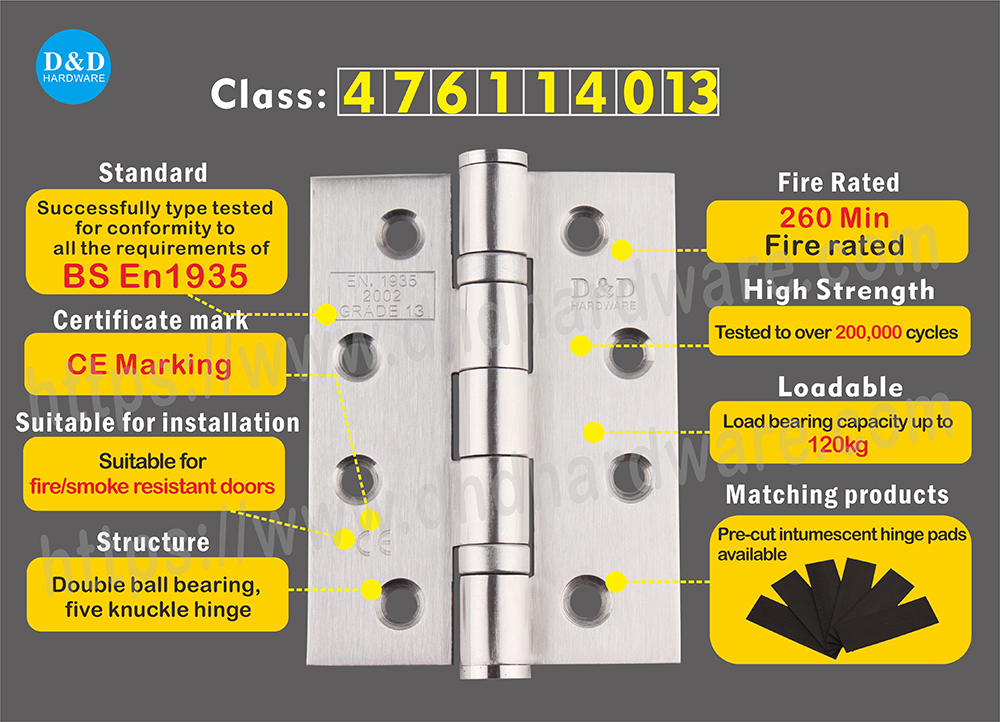 D&D CE door hinge have been successfully tested to all the requirements of BS EN 1935 / EN1634, 260 Minutes Fire Rated, testing from Intertek (PS: Intertek an approved third party certification or testing body)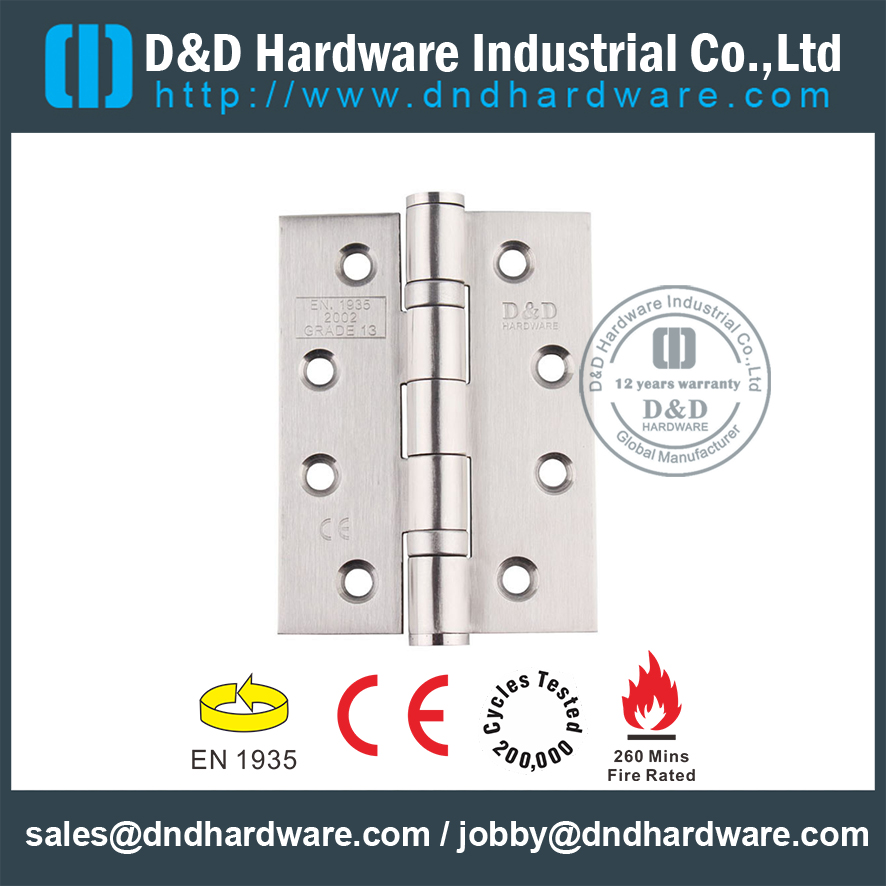 The fire door hinge is the center of the fire door suspension system, which bears the opening and closing of the door for daily use. It can withstand the flame temperature in the event of a fire, ensure the functionality of the fire door, and protect people from using the fire door to escape.
D & D fire-resisting hinge is made of Grade 304/316 stainless steel. It meets UL and CE test requirements, suitable for education, healthcare, and hospitality, residential and commercial applications. A professional team can provide a complete hardware matching solution.
For further information about fire rated door hinge or any of our services, click here.
Contact us Now:
Contact: David Jian
Mob: 0086-139 2903 7292
Email: David@dndhardware.com, sales@dndhardware.com
Jobby Zhang
Mob: 0086-137 2599 9617
Email: jobby@dndhardware.com