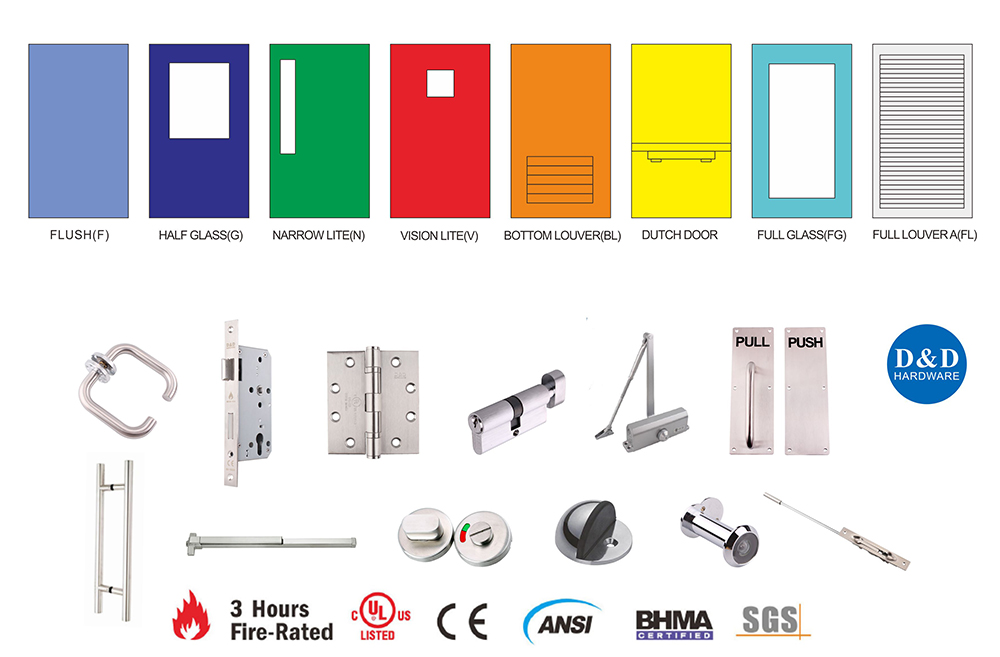 Fire door can meet the requirements of fire stability, integrity and heat insulation in a certain period of time.
Fire Doors serve four main purposes:
1. To serve as a regular door at all times;
2. To provide ready egress during a fire;
3. To keep fire from spreading throughout the building;
4. To protect life and property.
The fire rating classification of the wall into which the door is installed dictates the required fire rating of the door. The location of the wall in the building and prevailing building code establish the wall's fire rating. The associated door ratings are shown in table 1 below.
Basic Fire Door Requirements Check List:
1. A fire door must have a label attached.
2. A fire door frame must have either an attached or an embossed label.
3. A fire door must be self-latching.
4. A fire door must be self-closing.
5. If a fire door is held open, it must be equipped with a listed heat responsive device, fusible link or a smoke detection device.
6. A fire door must be free of any obstructions which could prevent the door from operating properly, i.e., wedge door stops, chains, hook backs, etc.
7. Only listed Fire Door Hardware shall be used.
8. A fire door must have steel bearing-type hinges. (Exception: Non-bearing plain steel hinges may be used if they are part of a listed assembly.)
9. Doors swinging in pairs that require Astragals shall have at least one overlapping astragal. Pairs of doors within a means of egress shall not be equipped with an astragal that inhibits the free use of either leaf. A coordinator open back should be used to ensure proper closing.
10. Fire doors with glass lights:
a. The glass frame and glazing bead must be metal.
b. The glass must be labeled wire glass not less than 1/4 "thick or as permitted by the labeling agency.
C. Maximum allowable glass area:
3-hour, A label – no glass permitted.
1-1/2-hour, B label-100 sq. in. per door leaf.
3/4-hour, C label-1296 sq. in. per light.
1-1/2-hour, D label-no glass permitted.
3/4-hour, E label-1296 sq. in. per light.
1/3-hour-1296 sq.in. per light.
11. Fire doors with fusible link louvers:
a. Only listed louvers can be used.
b. Louvers can be furnished in 1-3/4 "thick doors with a 1-1/2-hour or a 3/4-hour (no louver and glass light combinations are permitted).
c. Maximum louver size is 24" x 24 ".
d. Louvers are not to be installed in doors with Fire Exit Hardware or in stairwells.
Once a fire is formed, the fire door becomes a major guarantee for people to escape. In order to allow people enough time to escape, the fire door must be able to function at any time. The fire door must determine the appropriate building code. Check and fulfill the fire insurance company's requirements for the specific building. For maximum fire protection, Standard Number 80 of the National Fire Protection Association should be used for an installation guide.
D&D HARDWARE has over 12 year's experiences manufacturing architectural hardware products for Fire Rated Door , such as Door Hinges, Door Locks, Lever Handles, Door Closers, Exit Devices and Door Accessories etc., comply with BS EN,CE,UL, ANSI and BHMA standards.
For further information about fire door or any of our services, click here.
Contact us Now:

Contact: David Jian
Mob: 0086-139 2903 7292
Email: David@dndhardware.com, sales@dndhardware.com

Jobby Zhang
Mob: 0086-137 2599 9617
Email: jobby@dndhardware.com