BS EN 1906 Lever handles and knob furniture
Views:21 Author: D&D Hardware Publish Time: 2015-12-04 Origin:Site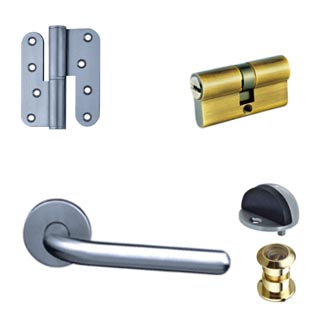 BS EN 1906 Lever handles and knob furniture
BS EN 1906 classifies door furniture by using an 8 digit coding system .A similar classification applies to all building hardware productStandards so that complementary items of hardware can be specified to , for instance , a common level of corrosion resistance, category of use, etc. Each digit refers to a particular feature of the product measured against the standard's performance requirements.


Digit 1-Category of use
Four grades are identified:
-grade 1: medium frequency of use with a high incentive to exercise care and a small chance of misuse , e.g. internal residential doors;
-grade 2: medium frequency of use by people with some incentive to exercise care but where there is some chance of misuse, e.g.
Internal office doors;
-grade 3: high frequency of use by public or others with little incentive to exercise care and with a high chance of misuse , e.g. public
Office doors;
-grade 4: high frequency of use on doors which are subject to frequent violent use, e.g. football stadiums, oil rigs, barracks , public
Toilets, etc.


Digit 2 –Durability
Two grades of durability are identified:
-grade 6:medium use – 100 000 cycles
-grade 7:high use – 200 000 cycles
The test undertaken to achieve these gardes involve the application of additional forces to the door furniture in order to simulate the conditions of use likely to be experienced in the field.

Digit 3 – Tset door mass
No requirement


Digit 4 –fire resistance
Two grades of fire resistance are identified:
-grade 0: not approved for use on fire /smoke door assemblies.
-grade 1: suitable for use on fire /smoke door assemblies.

Note: grade 1 classification means only that the furniture has been designed for use on fire /smoke control doors; the actual fire Performance achieved (e.g. fire integrity of 30 minutes on a partiall glazed timber door etc .)wil be contained in a separate fire test report .


Digit 5-Safety
Two grades of safety are identified :
-grade 0

:

normal use
-grade 1

:

safety application – to qualify for this grade ,handles must have high strength handle –to –plate and plate-to–door fixing and/or handle-tospindle fixing,such that they would withstand a person grabbing in order to prevent falling .It is recommended that only safety furniture is used at the top of cellar steps or othet staircase .
Digit 6-Corrosion resistance
Four grades are identified according to EN 1670:
| | |
| --- | --- |
| Grade 0 | No Deined Corrosion Resistance |
| Grade 1 | Mild Resistance- minium requirement for internal use |
| Grade 2 | Moderate Resistance |
| Grade 3 | Very High Resistance - recommended for use in exposed marine atmosphere or very pooluted industrial environments. |
Note: Products intended to devlop a natural patina(such as bronze or brass)are not required to comply with any requirements.
Digit 7-Security
Five grades are identified:
| | |
| --- | --- |
| Grade 0 | Not approved for use on burglary resistant doors |
| Grade 1 | Mild burglary resistant |
| Grade 2 | Moderate burglary resistance |
| Grade 3 | Hhigh Burglary resistance |
| Grade 4 | Extra High Burrglary Resistance |
Note: The main requirement include resistance to drilling, close fitting plates or escutcheons to help protect the lock and support the cylinder. they must be resistant to removal from the outside of the door and make provision to minimise the cylinder projection to a maximum of 3mm. full details of the requirement can be found in BS EN 1960.


Digit 8-Type of operations
Three operations types are identified:
| | |
| --- | --- |
| Typa A | Spring Sssisted furniture |
| Type B | Spring Loaded furniture |
| Type C | Unsprung Furniture |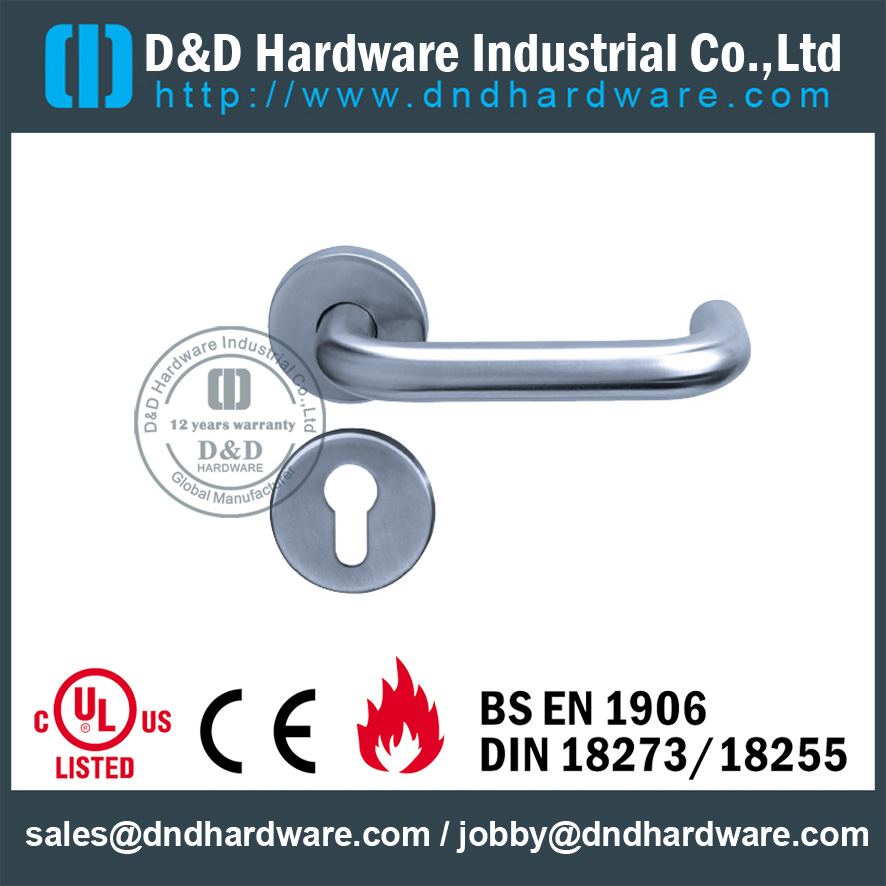 D&D Hardware Manufacture of high quality hardware for Wooden Doors, Metal Doors, Fire Rated Doors,
Our products which include Mortise Locks, Lock Cylinder, Lever Handles, Door Hinges, Panic Exit Device, Door Closer,Door Stopers, Door Bolts, etc.

All our products strictly according to international Standard, such as the ANSI, BS EN/CE, UL, BHMA standard.
Contact us Now:
Contact: David Jian
Mob:0086-139 2903 7292
Email: David@dndhardware.com, sales@dndhardware.com,

Jobby Zhang
Mob:
0086-137 2599 9617
Ema
il:
jobby@dndhardware.com
D&D HARDWARE INDUSTRIAL CO.,LTD
ADD:No.4 Bldg,Street 33,West Gaoxin Rd,High-tech Zone, Jianghai Dist. Jiangmen City,Guangdong,China (Postcode:529000)

Http://www.dndhardware.com
Tel:+86-750-3652251, 3856396
Fax: +86-750-3856395, 3856397